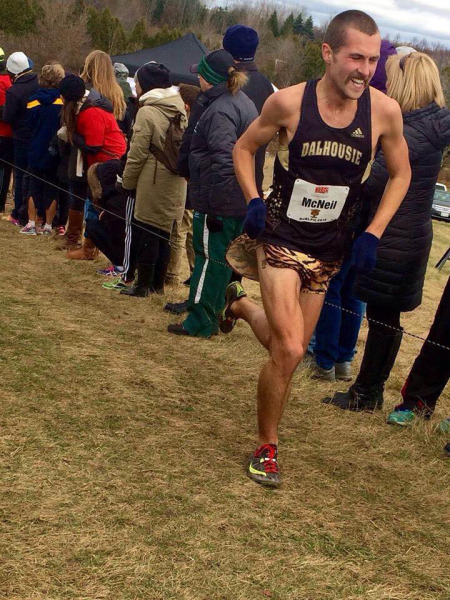 5 Quick Questions

with Matt McNeil

July 19, 2017

Whether he is running in his home province of New Brunswick, or Nova Scotia, which he has called home for the past six years since starting school there, Matt McNeil shines when he laces on those running shoes.
Last year was a big year for the native of Saint John, N.B., who now lives in Halifax. Having qualified with a seventh place finish at the CIS Cross Country Championships in November of 2015, McNeil traveled to Italy in March and represented Canada at the World University Cross Country Championships.
He followed that up with some impressive showings on the local road racing circuit, including a first place finish in the half marathon at the Blue Nose Marathon with a time of 1:08:53. Other than one he had run in high school without training for, this was his first-ever half marathon race, and it was the fastest run in the Maritimes last year.
After that came another first place half marathon finish with a 1:11:25 finish at the Nova Scotia Marathon in Barrington, N.S., which was his half for the Run Nova Scotia Performance Series, which he won.
Maritime Runner caught up with McNeil recently for 5 Quick Questions.

Matt McNeil representing Dalhousie University at the CIS cross-country championships in 2015.

Photo courtesy of Matt McNeil

A: I'd have to say my favourite distance is 15K. It's an odd distance and uncommon, but back home in N.B. I've raced it a number of times. I do like 10K and the half, but I find 15K is that sweet spot for me at the moment.

Q: Current/favourite shoe?

A: Anything and everything Saucony! I usually cycle a handful of different models simultaneously (eight different pairs, if you count flats and spikes.) If I were to pick a couple, I'd say Triumph ISO for easy/long runs, and the Kinvara for workouts.

Q: Fuel before/during a run?

A: Before a race/workout, I like to have oatmeal for breakfast. I've never raced long enough to require fuel or water during, but on long runs I've been experimenting with a few different gels. Right now I'm a fan of Powergels and Rekarb. I am a big believer in taking caffeine for an extra boost. Before a race I like to take 100mg before warm-up and another 100mg 15 minutes or so before the gun.
A: I can't remember the last time I didn't listen to music when running solo. I prefer running with people, but anytime I run by myself, I have to have my iPod. Workouts and races are different though. I don't work out or race with music. I'm a rock/metal fan when it comes to running.

Q: Favourite Maritime race?

A: Dartmouth Natal Day six-miler. I've done it the past two years and I think, with the high participation, very competitive, great course and it being on a long weekend mid-summer, makes it a great event. It's also very well organized.

Next up for McNeil will be a return to the Nova Scotia Marathon this weekend in Barrington to defend his title and check off his half marathon in the performance series.