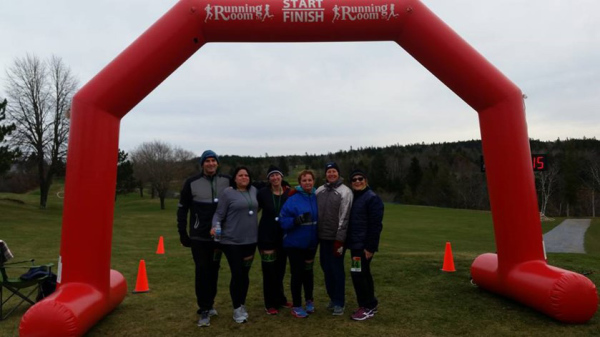 A great round at the

Rockwood Park 5K

Second annual draws 37 to run Saint John golf course

By Andrew Wagstaff

Maritime Runner
Nov. 14, 2017
SAINT JOHN, N.B. – Amelie Aikman may have to give her dog a new name.
The 29-year-old runner and her black dog, Turtle, were the first across the finish line in Sunday's Rockwood Park 5K in Saint John, with a time of 19:38.
It was a beautiful, bright and cold morning for this year's event, the second annual event at the park's golf course.
"With the promise of hot chili after the race, we had some very fast times for this tough, hilly- multi-terrain race," said race director Garth Millar.
A total of 37 runners took part in the event, which covers all areas of the golf course and features a variety of terrain, such as paved trail and grass.

The second annual Rockwood Park Golf Course 5K took place in Saint John, N.B. on Sunday, Nov. 12. Shown here are a few of the participants.

Photo courtesy of Garth Millar

"This is a spectacular parkland course in the heart of Saint John and, with the course being closed for the winter, the owners kindly agreed to allow us to run on the fairways," he said.
The top male finisher was Glenn Trites, with a time of 19:56, followed by Brent Marr at 21:58.
Marr ran last year's inaugural race, and said he enjoyed the change of running cross-country. As a result, he made an effort to add more trail running to his schedule this year. And mix it up with his road racing.
"It was nice to add another aspect of running to help not get too bored with the same old thing," he said. "Maybe I was a little more used to the cross country, or maybe I was just in better shape, but I was even able to better my time from last year."

Despite the impressive performance, he said the course is a challenging one, with a steep downhill at the start, and what feels like a climb for the rest of the race.
He thanked the organizers for putting on so many interesting events for the running community in southern New Brunswick.
"The course is very well marked, and the idea of running a race on a golf course is always a different experience," said Marr.
Finishing in fourth place was Brenda Guitard at 23:56, followed by Paul Sands at 24:03. The third place female finisher was Summer Ducheneau at 26:24.

For complete results, visit
here
.