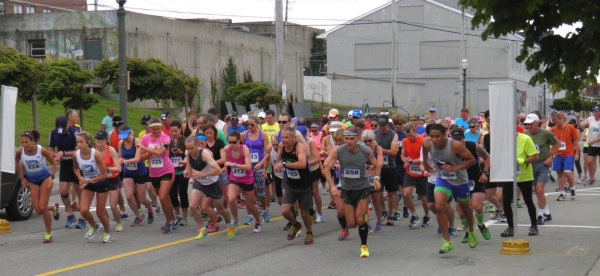 A lasting legacy for Sheila Poole

Annual Yarmouth 10K race set for July 15

By Andrew Wagstaff

Maritime Runner
July 7, 2017
YARMOUTH, N.S. – She's been gone for almost 20 years, but the name Sheila Poole lives on in the Maritime running community, thanks in large part to the annual 10K race held here every year in her memory.
The 19th annual Sheila Poole 10K will take place on Saturday, July 15, and organizers are expecting to have about 115 runners take part this year.
The oldest running event in Yarmouth's history, the race was previously known as the Human Race, which started 33 years ago. It was renamed after Poole following her death in 1997.

The 19th annual Sheila Poole 10K race will take place in Yarmouth, N.S. on Saturday, July 15. Shown here is the start-off for the 2015 race.

Photo courtesy of the Sheila Poole 10K Facebook group

At the end of each school year, a coach's award is given in her memory.
"She tried to run and stay fit during her fight with cancer," her sister recalled.
Starting and finishing on Water Street in Yarmouth, the course is mostly flat with a few rolling hills in the middle. It passes by Poole's childhood home, where her parents still reside. Her parents, Reigh and Ruth Poole, present the trophy to the top male and female runners.
Prizes are handed out to age category winners, as well as the "middle of the pack" runner (the MOP Award), and to the runner who has traveled the furthest distance to be there.
The race is also a part of the Run Nova Scotia Performance Series, thereby attracting many of the province's elite runners.
For more on the Sheila Poole 10K, visit
here
.
"Sheila inspired and encouraged many people to run for the fun and enjoyment of the sport," said her sister, Nancy Bishara.
Raised in nearby Dayton, Poole started running because "the dog was fat," according to her sister.
She competed in cross-country and track during her university days, winning the Human Race twice during the early 1990s, and became the top 10K runner when she worked as an occupational therapist in West Virginia.
"It was in 1994 that she was diagnosed with adrenal cortical carcinoma," said Bishara. "She moved home to receive treatment and, during that time, she coached the track and cross-country teams of Maple Grove Education Center, a junior high school."