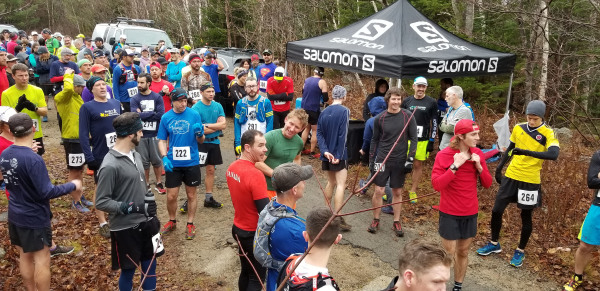 A race among the squirrels

Flyin' Nutz attracts 114 participants

By Andrew Wagstaff

Maritime Runner
Nov. 26, 2017
BLACK POINT, N.S. – The race director forgot to distribute helmets to protect runners from vengeful squirrels, but everyone seems to have emerged from the Flyin' Nutz trail race unharmed.
"It went super well today," said Jodi Isenor. "One hundred and fourteen runners showed up to tackle the deceivingly hard 10.513K course (yes, it was a tad longer than the original advertised distance)."
Hosted by Nova Scotia Trail Running, the late-season offering was well received by Halifax area runners, some of them experiencing trail running for the first time.

The inaugural Flyin' Nutz trail race took place in Black Point, N.S. on Sunday, Nov. 26, attracting 114 participants for the 10.5K trail run.

Photo courtesy of Jodi Isenor

"This was my first trail race and I'm totally hooked," said Morag McDonah, who finished first among females with a time of 1:17:52. "I really liked it. It was a well organized event, and the trail was clearly marked."
Not only were the trail directions clear, so were the directions on the race website explaining how to get to the event, according to McDonah.
She also enjoyed the post-race snacks, "most of them healthy!"

"The volunteers were cheerful and helpful – we couldn't do it without them," she said. "It's a big deal. They have a lot of standing and waiting to do in the damp and cold."
Finishing first overall was Adam Purcell, with a time of 1:02:19, followed by Stephen Goodyear at 1:04:07, and Michael Gfeller at 1:04:21.
Second behind McDonah among females was Sara Thompson at 1:19:03, followed by Erin Poirier at 1:20:23.
For complete results, visit
here
.