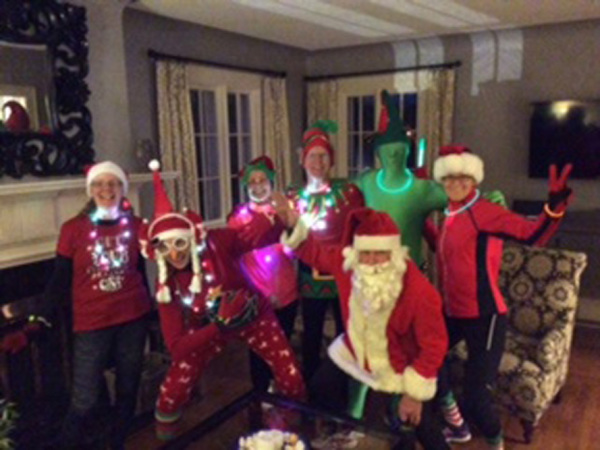 A run with the reindeer

in Mahone Bay

Night run added to Father Christmas Festival Dec. 2

By Andrew Wagstaff

Maritime Runner
Nov. 28, 2017
MAHONE BAY, N.S. – They might fly on Christmas Eve, but this weekend the reindeer here will be running.
The inaugural Mahone Bay Reindeer Fun Run will take place on Saturday, Dec. 2 as a new addition to the town's Father Christmas Festival, celebrating the season and raising money for The Lodge That Gives.
"It's going to be a fun run, and it's going to be about wearing your bling," said Nancy Petrie, who is serving as race director with Bill Roblee. "We're going right up Main Street and we're going to light that town up."
Volunteers are getting in the spirit for the inaugural Mahone Bay Reindeer Fun Run, which will take place in Mahone Bay, N.S. on Saturday, Dec. 2.

Photo courtesy of Nancy Petrie

Also adding to the appeal of the event, she believes, is the cause it supports. Located in Halifax, The Lodge That Gives provides a valuable service to rural families who have to travel there for things like cancer treatments, but it relies on private and charitable donations to operate.
The 3K run will start and finish at Old Mader's Wharf, and will move to the Mug and Anchor Pub for post-run refreshments, prizes and entertainment. The first 200 registrants will receive reindeer antlers and a red nose, while the first 200 adults will also receive a pewter reindeer Christmas ornament.
The response has been overwhelming, according to Petrie, who would have been happy with about 50 participants. As of Tuesday, 225 were registered online.
"We're very pleased with it, and are really pleased with how the community has jumped on in such a big way," she said. "They're positive and excited about it, so we really want to make it fun for everybody."
The run begins at 5 p.m. on Saturday.
For more on the Mahone Bay Reindeer Fun Run, visit
here
.
The idea came from a conversation between Petrie and Karen Pinsent, chair of the Father Christmas Festival. They agreed a run would be a great addition to the festival, and threw their businesses – Atlantica Oak Island Resort, and Amos Pewter – behind it as the two major sponsors.
Petrie and Roblee had been involved with the Lunenburg 5K for a number of years, and saw great potential for an event in Mahone Bay, her hometown.
"The first thing was because it's Mahone Bay," she said. "It's a little town with a lot of energy, and whenever they put something out there, it's always well supported by Nova Scotians.
"Father Christmas is an established festival, so we knew that would draw families in, but we also wanted to bring another element to Father Christmas," added Petrie. "We thought a night time run might appeal to people looking for something different."