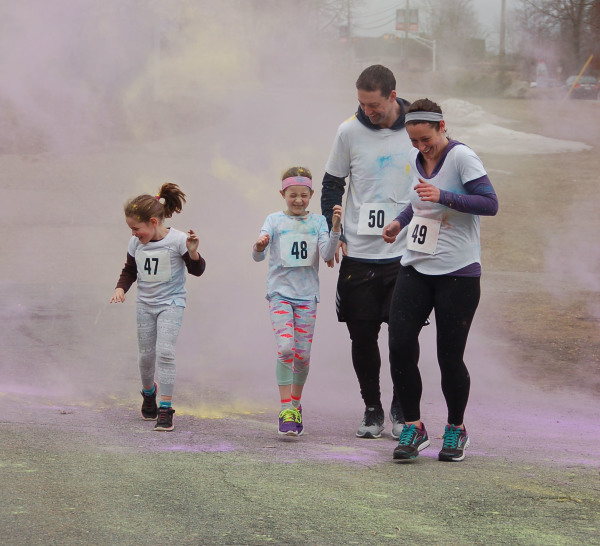 Acadia students hosting

second annual colour run

A Run to Dye For scheduled for April 8

By Andrew Wagstaff

Maritime Runner
March 30, 2018
WOLFVILLE, N.S. – Things are about to get colourful here again.
The Exercise is Medicine (EIM) group from Acadia University will hold its second annual A Run to Dye For event on Sunday, April 8, hoping to build on the success they started last year.
"The colour run was one of our most popular events last year," said Majeedah Belding, one of the group's executive members. The 2017 event had 112 participants pre-register, with about 25 more showing up on race day.
"For a non-profit campus club, this was huge for us," she continued. "Due to the popularity, and how fun it was, we decided to do it again. It's a great way to wrap up the year."

The Exercise is Medicine Acadia chapter will host the second annual A Run to Dye For event in Wolfville, N.S. on Sunday, April 8. Shown here are participants during last year's event.

Photo courtesy of Exercise is Medicine Acadia

Exercise is Medicine is a global health initiative managed by the American College of Sports Medicine, committed to the belief that physical activity is integral in the prevention and treatments of diseases and should be regularly assessed and treated as part of all health care.
The goal of the 5K run is to provide the community within and outside the university a fun event for everyone, regardless of age or fitness level, and to get people moving in a friendly, welcoming, supportive environment.
Starting at 3 p.m. in front of the Acadia Athletics Complex, the 5K walk/run takes place within Wolfville, with stations at each kilometer marker dousing the participants with a new colour.

This year's event will be much the same as last year, with a few small tweaks. Finisher certificates will be awarded to all participants, more volunteers and clear route directions will be available, food and music will be at the finish line, and kids can register for only $5.
"The hope is to make it an annual end of year event, and continue to make it bigger and better," she said.
Visit the event's Facebook page
here
.