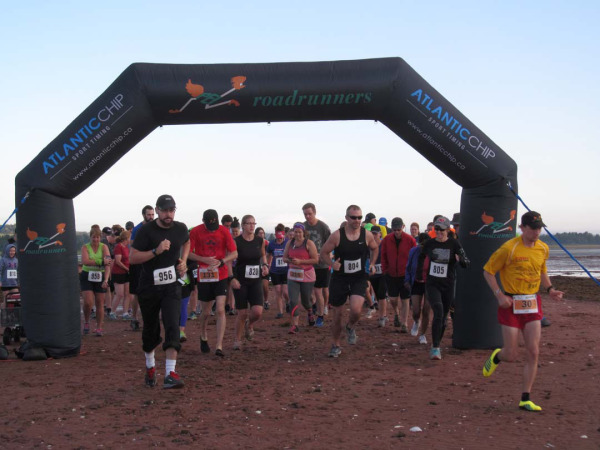 Across the Red Sea

Islanders come out in support of Camp Seggie

By Andrew Wagstaff

Maritime Runner
Sept. 10, 2017
RICE POINT, P.E.I. – How did you start your day off on Saturday? Some folks here did it by running to an island and back.
The second Red Sea Run took place at Rice Point, P.E.I. on Sept. 9, as a fundraiser for Camp Seggie, a Christian summer camp. Forty-two runners completed the 5K race to nearby St. Peters Island and back, while 10 others completed the 10K route around the island, and a number of youngsters took part in the 300m Sandbar Dash.
The event was held just after sunrise, to coincide with the low tide.

The second annual Red Sea Run took place in Rice Point, P.E.I. on Saturday, Sept. 9.

Photo by j. norman-bain

"It's fun and different," said Alex Bain, who placed first in the 10K race with a time of 43:06. "Last year I took a wrong turn with another runner and we were DQ'd. This year I won the 10K, even though I stopped to put my shoes back on that got stuck in the mud."
The pancakes were also great, according to Bain.
Finishing in second place was Andy McQueen at 49:59, followed by Sam Wandio at 52:31.
Shanice MacDonald was the top female finisher at the 58:32 mark.
"The run was awesome," she said. "It was different from anything I have ever done before."
MacDonald heard about the inaugural event last year, and decided she had to try it this year. Now she can't wait until next year.

"It was more challenging with the water, rocks, seaweed and mud, but the water was very refreshing at the same time," she said. "The day had perfect weather and was so beautiful. It's not very often you can say you ran from one island to another."
Finishing second among females was Sandie Leclair at 59:32, followed by Lori Arnold at 1:09:48.
In the 5K race, it was Nathan Barbour finishing in first place with a time of 26:31, followed by Bill Wyss at 27:41, and top female Linda Matthews at 29:14. The second place female was Stacey Kuypers at 31:56, followed by the third place male Eric Deveau at 33:46, and third female Jenny McDougall at 34:22.
For complete results, visit the PEI Roadrunners page
here
.
All funds raised at the event go towards the Camp Sponsorship Fund, which helps over 100 Island children attend the camp every year.