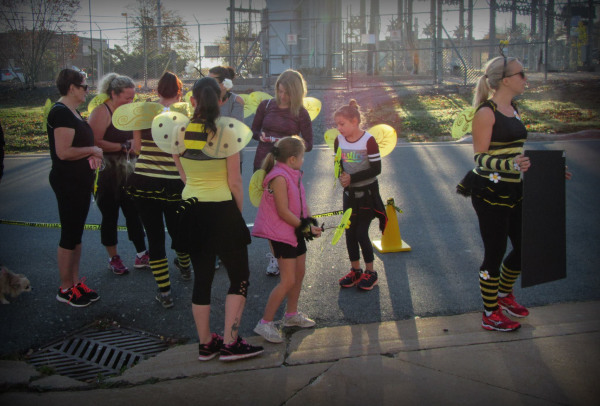 All dressed up with places to go

Trick or Treat Trot draws large crowd in Bridgewater

By Andrew Wagstaff

Maritime Runner
Oct. 29, 2017
BRIDGEWATER, N.S. – Just after the halfway point of the 10K race at the YMCA Trick or Treat Trot, Morgan Book received some help from fellow runner Anita Howard.
"She coached me through that pain, and told me to 'catch that bunny'," recalled the Middle Sackville runner.
The "bunny" was lead runner Andre Veinotte, who was wearing a bunny costume for the Halloween-themed event, which took place in Bridgewater on Saturday. Book did indeed catch him for her first-ever first place finish, with a time of 48:57.
She said she enjoyed the event, with its cool temperatures, blue skies, fun costumes and happy runners.

Costumes created plenty of buzz at the YMCA Trick or Treat Trot in Bridgewater, N.S. on Saturday, Oct. 28. The event was a fundraiser for the Lunenburg County YMCA Strong Kids campaign.

Photo courtesy of Tamara Fraser

"I came down from Halifax and ran the 10K with no goal in mind but to have fun," said Book. "And fun was certainly had! The course was a great mix of roads, trail and a nice downhill finish."
Veinotte, a local Bridgewater runner, finished in second place with a time of 49:51, followed by second place female Howard at 49:52, and Meaghan Kerman at 49:55. Second among males was Paul Bracken at 51:25, followed by Jeffrey Oakes at 52:54.
In the 5K race, it was Mike McDonald of Crouses Settlement finishing in first place with a time of 22:31, followed by top female Tamara Fraser of Petite Riviere at 23:25.
"I love this little race," said Fraser. "It's the fourth year, I believe, and at the first one there was about 30 people running. It was great to see the crowd today."
She said the course works well, with not a lot of highway running, and the day was beautiful despite a bit chilly at the start.
Normally more interested in marathons or half marathons, Fraser said she does not run a lot of shorter distance races, but thinks the Trick or Treat Trot is a great event, with even more potential.

"It would be nice to see a "fun" run for the little ones," she said. "They did a 1K, but tunnels and fog machines and hula hoops and zombies chasing you would rock!"
Finishing in third place was Paul Jewell at 23:39, followed by Isaac Winter at 23:56. Second among females was Krista Perry at 25:08, followed by Courtney Lambert at 25:13.
For complete official results by Atlantic Chip, visit
here
.
Funds raised from the event will go to the Lunenburg County YMCA Strong Kids campaign, and centre director Kim Roy was pleased with how it went.
"Things went great," she said. "We had 137 participants wear chip timers; we had a few who chose not to wear the timers but still did the race, and we had approximately 20 people do the 1K. All in all, it was a great day, and the weather was perfect."