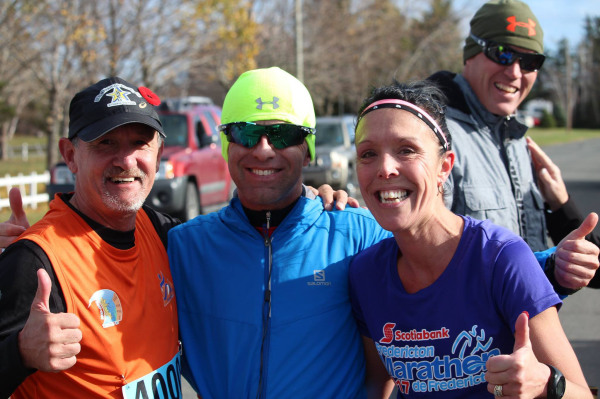 Arseneau, Laltoo win 361e Demi-marathon de l'Acadie

Theriault-Roy celebrates milestone 50th race in Tracadie

By Andrew Wagstaff

Maritime Runner
Nov. 6, 2017
TRACADIE-SHEILA, N.B. – Running your 50th half marathon race is a great milestone, but doing it surrounded by your friends at the Demi-marathon de l'Acadie here is even more special.
Nathalie Theriault-Roy found that yesterday, when she crossed the finish line to a congratulatory banner and warm welcome from those gathered.
"It was amazing," she said. "I cannot say enough good things about the committee, the organizers, the volunteers and the runners who keep on going in Tracadie month after month. They shaped me into the runner that I am now, and for that I'm incredibly grateful."

Allan Lagace (centre) congratulates Maurice Vienneau and Nathalie Theriault-Roy for running their 50th Demi-marathon de l'Acadie races on Sunday, Nov. 5.

Photo courtesy of Demi-marathon de l'Acadie on Facebook

It has been a memorable year for Theriault-Roy, who qualified for the Boston Marathon with her finish at the Fredericton Marathon in May, and then ran her 50th Demi-marathon de l'Acadie. Both were goals she wanted to achieve before she turned 40, which she will do on Sunday.
She was the second female finisher in Sunday's race.
"We had a face wind for at least 10K, so it made it harder, but you cannot control the weather," said Theriault-Roy. "But it was still a good day for a run."
She was one of 39 runners taking part in the event, a slight increase from last year's turnout for the same month, according to race director Donald Wade, who was glad to see the regular participants and newcomers from areas such as Prince Edward Island and Moncton.
Theriault-Roy was not the only participant to run their 50th Demi-marathon de l'Acadie, as Maurice Vienneau also accomplished the feat.
"They were happy to cross the finish line almost together," said Wade, who explained that male runners have to reach the 100th milestone before they receive the same celebration. "For females, we have a smaller number achieving that goal of 50, so we celebrate it."

Finishing first overall on Sunday was Sylvain Arseneau of Petit-Rocher, with a time of 1:24:57, followed by Jonathan Legault at 1:31:33, and Sebastien Poirier at 1:31:48.
The top female finisher was Lindsay Laltoo of Moncton, who finished with a time of 1:32:56 in her debut at the event.
She described it as "the friendliest race you could ask for."
"The organizers are passionate about running and building the running community, and there were lots of nice touches for such an affordable race," said Laltoo. "It's really wonderful to see a dedicated group willing to put on a great event like this every month."
As for her race, she said she found the wind to be challenging. Expecting it to get better after rounding the turn on the L-shaped course, she said the wind got even stronger at that point.
"I decided not to worry about keeping pace at that point, and tried to just run at a good effort," she said. "I'd love to come back and do it with the wind at my back sometime."
Finishing second among females was Theriault-Roy at 1:38:28, followed by Silvia Antuna at 1:47:42.
The next Demi-marathon de l'Acadie, the 362nd, will take place on Sunday, Dec. 3, featuring the annual year-end celebration and prize draws.