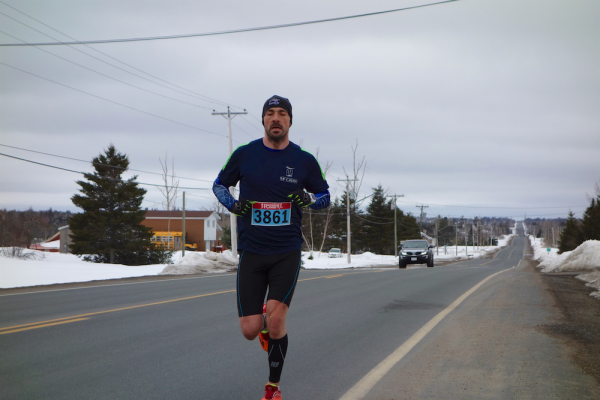 Barefoot on Friday, half marathon on Sunday

Easter weekend shaping up to be fun in Tracadie

By Andrew Wagstaff

Maritime Runner
March 23, 2018
TRACADIE-SHEILA, N.B. – Easter Sunday, April 1, will be the date of the next Demi-marathon de l'Acadie. But, first, they will have a Good Friday tradition to take care of on March 30.
Starting at the Centre Municipal de St-Isidore at 10 a.m., this fun run will be a 10K, taking in almost half of the regular route, and wrapping up at the Knights of Columbus Hall in Pont-Landry.
There, the participants take off their shoes and walk barefoot in the snow.

"The legend goes, if you step barefoot in the snow on Good Friday, then you will ward off all injuries for the rest of the year," said race director Donald Wade. "We spread that news, and that's why a lot of people always show up."

The 366e Demi-marathon de l'Acadie will take place from St-Isidore to Tracadie-Sheila, N.B. on Sunday, April 1. Shown here is Lee Roy, who won last year's April race with a blazing time of 1:13:47.

Photo courtesy of Demi-marathon de l'Acadie

The tradition has been going on for many years, and Wade is expecting another good turnout. It is a fun, untimed 10K, with some running it fast and some running it slow.
As for the half marathon race on Sunday, he is hoping for more than 30 participants.
"A lot of family members come home for Easter and the long weekend… I imagine a lot of people might show up," he said. "We don't really like when the event falls on a long weekend, because we have to make special plans to have the swimming pool opened, because it's closed on holidays. But we have a good relationship with the Town of Tracadie, and it's no problem."

Runners always gather post-run at la Piscine S.-A.-Dionne de Tracadie-Sheila for refreshments, showers and fellowship.
Last year's April race drew a crowd of 27 runners, and some pretty impressive times. In fact, Lee Roy's winning time of 1:13:47 was the fastest run on the course in 2017.
For more on the 366e Demi-marathon de l'Acadie, visit
here
.