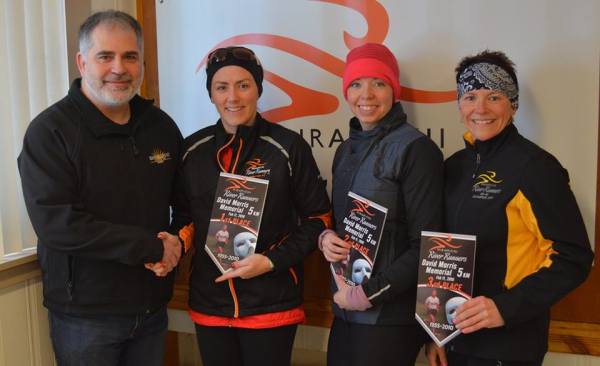 Basque, Barrieau first

at David Morris 5K

Miramichi run draws 43 despite challenging conditions

By Andrew Wagstaff

MIRAMICHI, N.B. – Sometimes the winter weather can have a negative impact on running events, as participants choose to stay home rather than face cold temperatures or snowy surfaces.
Yesterday's David Morris Memorial 5K not only did not suffer from the snow and slush underfoot, it attracted a sizable crowd of 43 runners, a big jump from last year's 26.
"It was a challenging one for me and a tight race between Christa Waye and I," said top female finisher Amy Barrieau. "We were slipping and sliding, dodging ice and traffic.

(From left) Miramichi River Runners past president Karl Robichaud presents awards to the top three female finishers in the annual David Morris Memorial 5K on Sunday, Feb. 11, Amy Barrieau, Christa Waye and Nathalie Waterburry.

Brian Richard photo

"Don't get me wrong, the added difficulty made it quite fun," she continued. "Miramichi River Runners are true weekend warriors in my books!"
Barrieau crossed the finish line at the 23:02 mark, and Waye came in only 13 seconds behind as the second female.
Waye said she was happy with her run.
"I think, for most, it was all about running hard when you had some clear pavement, and cautious when it was icy," she said. "I personally like to pick up some speed on the downhill portion but I found that wasn't an option on Sunday, due to road conditions."
The race among males was also a close one, as Shippagan's Timmy Basque finished in first place, only six seconds ahead of Sylvain Arseneau.
The 19:31 finish was a new 5K PB for Basque.

"I felt in good shape for this race," he said. "Maybe next time I'll break into the 18-minute, if the roads are OK."
Basque said he did not want to burn out early, so for most of the race he stayed behind Arseneau, who he knew kept a good pace. He only passed him with about 400 metres left to go.
Finishing in third place was Paul Comeau, with a time of 19:59. Finishing third among females was Nathalie Waterburry at the 24:55 mark.
For complete official results, visit
here
.
The next race in the Miramichi River Runners series will be the
March 5K
on Sunday, March 18.