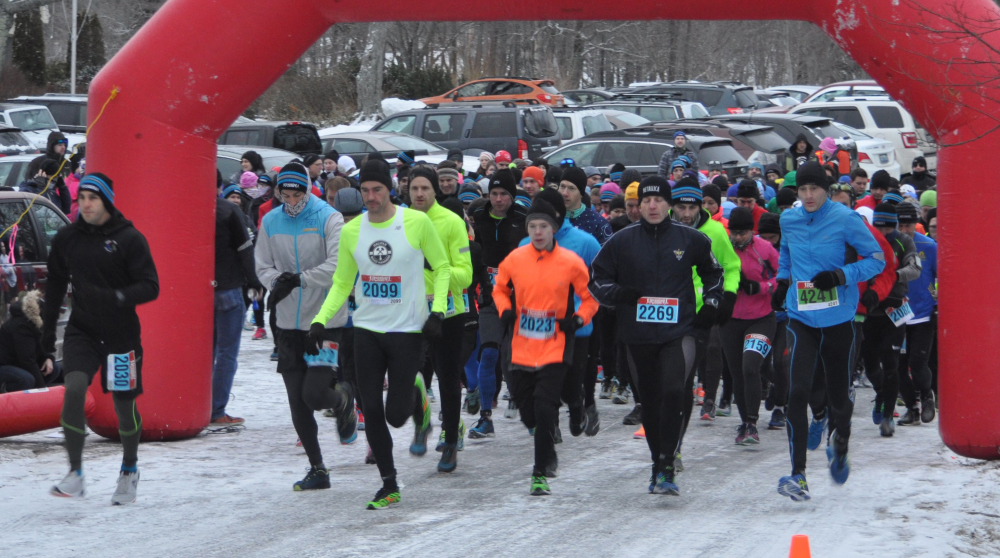 2017 in Review:

Battling the January elements

Maritime runners keep active in the winter


By Andrew Wagstaff

The year started off on a busy note, with no less than eight running events taking place throughout the Maritimes on New Year's Day, some of them experiencing a blast of wintery weather.
"The big draw is that it's a way for especially new runners or people looking to get out and start the year off right, to enjoy the festivities in a positive manner," said events manager John Acheson.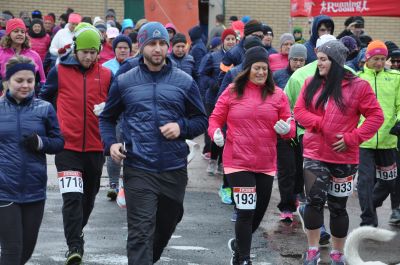 The Resolution Run in Moncton, N.B. on Jan. 1, 2017. At top of page is the Hypothermic Half Marathon in Halifax on Jan. 15.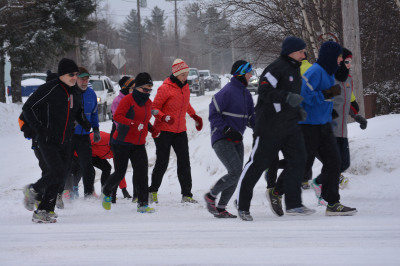 The Miramichi River Runners gave their annual race series its official kick-off with the Brian Richard 5K on Jan. 8, attracting 29 runners in spite of cold, snowy conditions.

"Winter conditions can be challenging so I just try to stay disciplined and get out there and face the elements," said top female finisher Nicole MacCallum. "Running with the Miramichi River Runners keeps me motivated."
Sylvain Arseneau set the tone for what would be a tremendous year of achievement for him, finishing first overall with a time of 19:48.

The Running Room launched its 2017 Hypothermic Half Marathon series in Halifax on Jan. 15, with Mike Juurlink (1:20:28) and Sarah Macdonald (1:34:14) taking spot in the 21.1K race.

"My club, the Halifax Road Hammers, spent a lot of time in the fall training on the trail, so I knew what to expect course-wise," said Juurlink. "You run uphill for 5K, and then get it all back. The double out and back provided some nice variety."
For the first time, 10K and 5K races were also offered at the event, although most runners still opted for the half.

The Brian Richard 5K in Miramichi, N.B. on Jan. 8, 2017.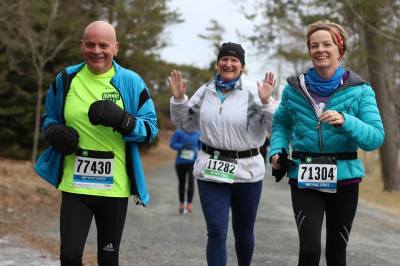 Also launching its annual race series in January was MEC (Mountain Equipment Cooperative) Halifax, drawing more than 600 participants to Point Pleasant Park on Jan. 29.

A snowstorm saw the race postponed from its original date of Jan. 8, proving to be a wise move, as the turnout became the largest in the event's history. Chad Gilbert (36:49) and Lexi Juurlink (42:47) were tops in the 10K, while Lee McCarron (17:43) and Lindsay Lamrock (20:46) were first across the line in the 5K.
"It was amazing," said race director Christine Krochak. "The weather was decent and the runners were awesome. There were lots of great hugs, and today they were keeping me warm too!"

(From left) Darrell Hill, Angela Doiron, Daphne Arsenault take part in the 10K race at MEC 1 – Point Pleasant Park on Jan. 29.