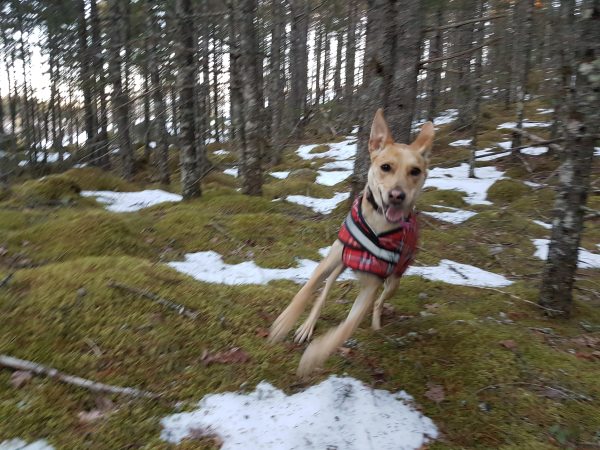 Beware Flyin' Nutz

Black Point trail race offered Nov. 26

By Andrew Wagstaff

Maritime Runner
Nov. 22, 2017
BLACK POINT, N.S. – Jodi Isenor thought he was done putting on trail races this year, but he couldn't resist this one.
Isenor and his Nova Scotia Trail Running outfit will return on Sunday, Nov. 26 to offer Flyin' Nutz, a fall surprise for those who thought the Sept. 30 Beat to Snot event was the end of their trail racing season.
"Beat to Snot was going to be the last one (this year), but then we thought we'd share some very well hidden single-track that was built by mountain bikers and only discovered by us in the last year or so," he said.

Not a lot of trail runners are familiar with the course offered at this weekend's Flyin' Nutz race in Black Point, N.S. on Sunday, Nov. 26, but race director Jodi Isenor's dog Ella is. She is shown here, testing the terrain back in March.

Photo courtesy of Jodi Isenor

"Nobody will be breaking any 10K PBs though, unless this is their first 10K race," he added.  "It's twisty and turny with some soft mossy sections. It's a really nice trail that the mountain bikers put a lot of work into."
The course predominantly an out and back, with a 1K loop at the far end, and is 95 per cent single track and five per cent logging road.
The only danger to runners is flying nuts from the local squirrels, known to have a mean disposition. That has not seemed to scare off participants, however, as 107 have registered so far.
For more on Flyin' Nutz, visit
here
.
"These trails will be new to 90 per cent of the runners and not that far from Halifax, so that'll be fun for them to see."
Located off Highway 103, between two lakes in the St. Margarets Bay area, this trail is so little known that Isenor knows of only a few runners who have been on it.
Compared to his more extreme offerings, such as Beat to Snot, Sonofa Gunofa and Wascally Wabbit, this one is a "normal" kind of trail race, according to Isenor.
"At 10.5K, it's doable for most people, it's close to the city, and it doesn't have any big climbs/descents," he said.