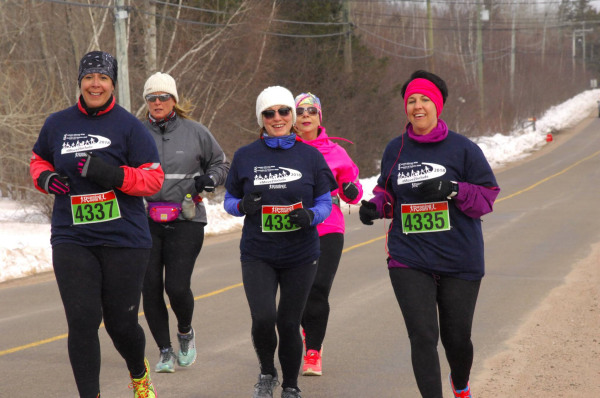 Big potential for Move 2 Include

Move 2 Include held in support of Inclusion Advocacy

By Andrew Wagstaff

Maritime Runner
March 18, 2018
MONCTON, N.B. – Colin McQuade has worked as a volunteer at Move 2 Include for the past few years, but this year he decided to run it.
"Participation is just as important," he said. "It is a great cause. I was enjoying the atmosphere for a fun run."
The ninth annual fundraiser for Inclusion Advocacy South Eastern New Brunswick took place in Moncton yesterday on a chilly day. The crowd was down considerably from the near 100 participants who turned out last year, but that did not seem to affect the outlook of the organizers.

The ninth annual Move 2 Include run/walk took place in Moncton, N.B. yesterday as a fundraiser for Inclusion Advocacy South Eastern New Brunswick.

Photo courtesy of Atlantic Running Room Events on Facebook

"It went well," said race director Terry Hawkes. "We had about 35 people in total. It was a great day for running."
The 10K run and 5K run/walk gives participants an opportunity to get out and enjoy Moncton's north end, as it meanders through quiet residential areas.
It also happens to be a fast route, for those looking to try it out for speed.
"I love the route," said McQuade. "It has potential to run a fast 5K."
He gave credit to the many volunteers who were out in the cold, cheering on the participants, and the runners and walkers themselves for getting in a good morning's workout.

"I saw a lot of hardworking runners looking to break up the winter training, though the numbers were low," he said. "Move 2 Include has potential for more participants."
Inclusion Advocacy is a family-based organization that assists people with intellectual disabilities and their families in advancing inclusion in their own loves and in their communities. This can include advocating for them in the school system, or helping them navigate their way through social services or other areas of need.
Move 2 Include is one of three major fundraisers the organization depends on for its operation.