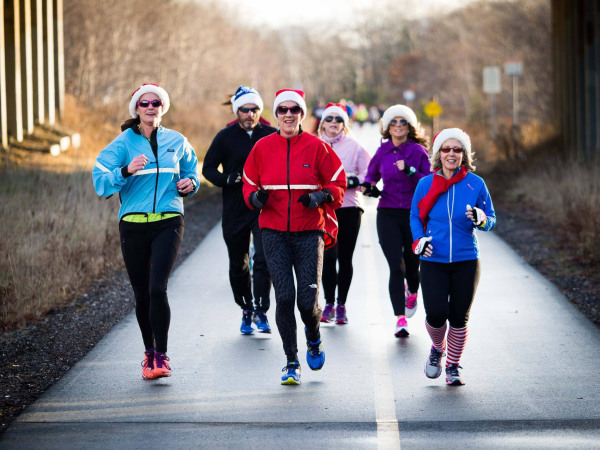 BLT Runners kick off Christmas Marathon challenge

Participants will run 42.2K distance over seven-day period

By Andrew Wagstaff

Maritime Runner
Dec. 24, 2017
HALIFAX – Many runners here and everywhere got a jump on holiday turkey hangovers today, with the kick-off of the BLT Runners Christmas Marathon.
Runners taking part in the challenge will run not just today, but the equivalent of a marathon during the week, posting daily progress updates using the hashtag #BLTRXmas42.
Craig Durling came up with the idea back in 2012, just as something to do on his own. The following year some friends joined him, and it continued to grow each year.
"The whole idea is to challenge people to stay active over the holiday season, when there are many reasons not to be active, and also where the average person consumes a lot more calories than normal," he said.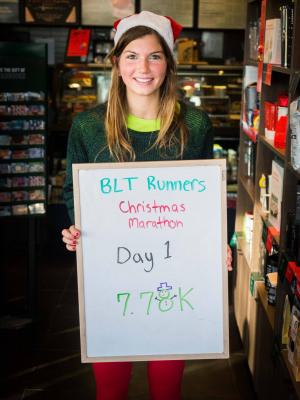 The BLT Runners started their Christmas Marathon Challenge with a special kick-off run in Halifax this morning. Participants are challenged to run 42.2K over the seven-day period of Dec. 24-30, and to share their progress on social media, like Lindsay Lamrock did here today.

Lamrock Photography

He figured the marathon distance of 42.2K would be a reasonable goal to shoot for over the seven-day period of Dec. 24-30.
 "For some people that would be a higher than average volume week, for some it's about what they normally do, and for others it's a bit less," said Durling. "So it seemed like a nice number that would be achievable for all."
In 2015 he called it the Christmas Marathon. After the BLT Runners was formed last year, it became a club-sponsored event as a way to get members active.
The kick-off event on Christmas Eve is a 40-minute run followed by a coffee, and started in 2015.

"We run from Starbucks in Bayers Lake and run on the Chain of Lakes Trail, which is paved and cleared/salted in the winter," said Durling. "So, no matter the weather, it's a great place to organize a winter run because you know it's going to be safe."
A virtual finisher medal will be awarded to participants to use as their profile photo.
Durling was pleased with today's get-together.
"It was a fantastic turnout, and you couldn't have asked for better winter running weather," he said. "A lot of people got a good solid start on the seven-day challenge.
I've also seen a lot of posts on social media too from other places so there were a lot of Christmas Marathoners getting some distance in this morning."