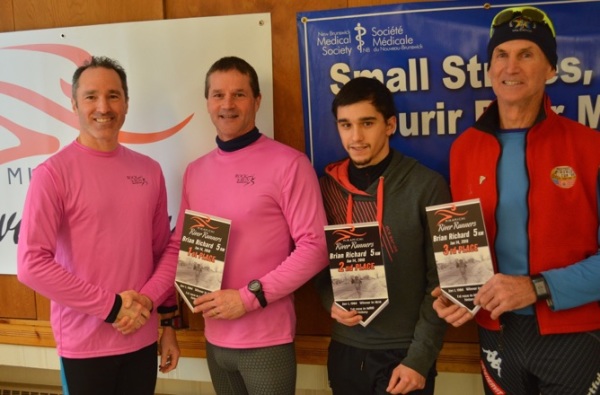 Borris, Comeau win

Brian Richard 5K

Many wear pink in memory of Donaher

MIRAMICHI, N.B. – There may have been some white stuff falling from the sky, but there was plenty of pink on the course during today's Brian Richard 5K.
Many runners wore pink in memory of Arlene Donaher, a local runner who lost her battle with cancer last week.
"She was running all the time with us, except she missed a lot of our races last year because she was training for a marathon," said Brian Richard of the Miramichi River Runners.

(From left) Ralph Williston presents awards to the top three male finishers in the Brian Richard 5K on Sunday, Jan. 14 – Paul Comeau, Timmy Basque and Raymond Caissie.

Brian Richard photo

November is the month of Donaher's birthday, and is also Pancreatic Cancer Awareness Month.
Today's race in Miramichi drew 36 runners, seven more than the same race last year, despite some expected winter weather.
"It was pretty good," said Richard. "The roads were clear for most of the way, and the first 4K were almost perfect. It snowed most of the way through it, but just a light powder snow, nothing to worry about."
Local high school student Johanna Borris was the winner of the race, with a time of 19:05, followed by top male finisher Paul Comeau at 19:35. Second among males was Timmy Basque at 19:51, followed by Raymond Caissie at 20:10.
Basque made the trip from Shippagan, and was happy with his race.
"I felt a great atmosphere around me, surrounded by great people," he said. "Everyone seems to support each other, and it was great for a first experience."

Basque quit smoking nine months ago and had a great race because of it, he explained.
"I was finally able to beat an old record from 10 years ago and, at the same time, finally break sub-20," he said. "It was basically the best race of my life."
Finishing second behind Borris among females was Christa Waye, with a time of 23:01, followed by Nicole MacCallum at 23:29.

"Today's event was great," said Waye. "There was a lot of clear pavement, which is always a treat at this time of year. My treadmill gets well used in the winter months, so getting outside and being amongst other runners felt very refreshing."
For complete results, visit the Miramichi River Runners page
here
.