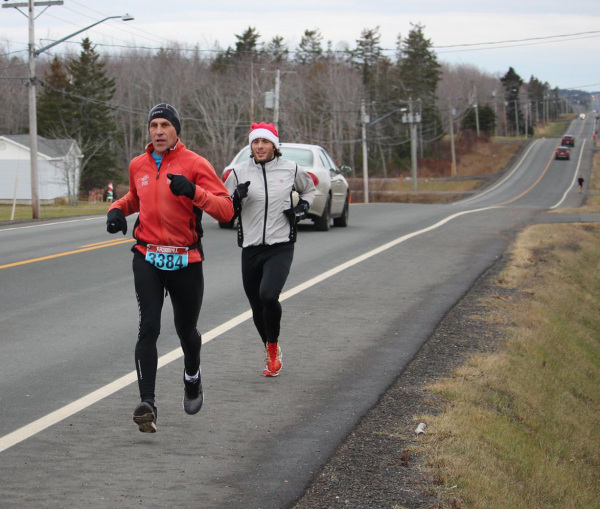 Boudreau, Theriault-Roy win Demi-marathon de l'Acadie

Forty-six participants turn out for year-end celebration

By Andrew Wagstaff

TRACADIE-SHEILA, N.B. – Twenty-six years after running his first Demi-marathon de l'Acadie, Stephane Boudreau was in strong form at yesterday's 362nd running of the monthly event.
The 40-year-old Caraquet runner finished in first place with a time of 1:23:19, just 12 seconds ahead of Sylvain Arseneau.
"I love that race," said Boudreau. "I was going more when I was younger. Now I go a bit less because I have three kids and it's a bit more complicated."
The weather was beautiful for the Dec. 3 run, cloudy but with no wind, and a temperature of around one degree.

Sylvain Arseneau (left) and Stephane Boudreau lead the way in the 362e Demi-marathon de l'Acadie, which wrapped up for the year in Tracadie-Sheila, N.B. on Sunday, Dec. 3.

Photo courtesy of Demi-marathon de l'Acadie on Facebook

"The joy that running gives me, I can't even explain it," said Theriault-Roy. "The support that the Chaleur Running Club has given me over the years is beyond amazing. They believed in me when sometimes I did not know if it was possible, but they always had my back and for that I will be grateful forever."
Finishing second among females was Nathalie Guerette Pelletier, with a time of 1:47:26, followed by Silvia Antuna at 1:48:09.
The race also included five new runners, according to race director Donald Wade, who said it was a great celebration of the year.
"It was quite a pleasant gathering, and nobody was in a rush to leave," he said.
The Demi-marathon de l'Acadie will return with its 363rd event on Sunday, Jan. 7, 2018.

Forty-six participants turned out for the event, which featured the annual year-end celebration after the race, with pizza, cake, beer and draw prizes.
Boudreau said he likes the fast course, and was pleased with his race.
"I was surprised I won because I was 20 seconds behind Sylvain until 18K," he said. "I ran pretty fast for the last 3K, so I was pretty happy with that."
Arseneau finished in second place with a time of 1:23:31, followed by Mathieu Fortin at 1:25:50.
Also happy on Sunday was Nathalie Theriault-Roy of Beresford, who not only finished as the top female with a time of 1:39:10, but also received a plaque for reaching the milestone of running her 50th Demi-marathon de l'Acadie last month.
She said it was an emotional day.