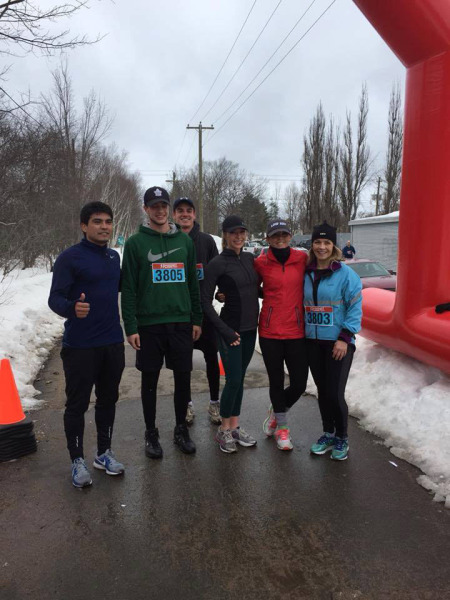 Celebrating SPRING in Fredericton

Annual run/walk fundraiser a success

By Andrew Wagstaff

Maritime Runner
March 26, 2018

FREDERICTON – For the past two years, a group of students at the University of New Brunswick have been making a difference in their community with the UNB SPRING program. Yesterday, the community had a chance to give back.
The second annual UNB SPRING Run/Walk went very well, according to Patrick Gallagher, one of the organizers. A total of 56 participants turned out – 36 for the 5K and 20 for the new 10K option.
"From the funds raised at the event, it looks like we will be able to send a child to Camp Rotary this year," said Gallagher.

The second annual SPRING Walk/Run took place in Fredericton on Saturday, March 24. Shown here are the top 5K finishers.

Photo courtesy of Stephanie Smith

"Overall, we were super happy with the turnout and the trail conditions, but we would definitely like to try to expand the race again next March."
During setup, the organizers were worried about icy conditions along the trail, but by start time at 10 a.m. the ice had mostly melted, according to Gallagher, who thanked all the runners and volunteers who made the event possible.
One of the runners was Adriana Spragg, who said she had a great experience.
"It was my first 5K race, and we couldn't have had better weather for March," she said. "I really enjoyed it. It definitely had its tough parts, but overall was really fun."
Stephanie Smith was back to take part for the second straight year. She said the conditions were ideal, and the route suitable for participants of all ages and levels to walk or run.

"The atmosphere is fun and upbeat – not overly serious or intense and lots of positive energy and a real mix of people – UNB students, SPRING parents and families, and participants of all ages," she said.

"It's well organized, the routes are well marked, with student volunteers at stations and water stations along the way, prizes for top finishers and lots of post-run refreshments.

"It would be hard not to enjoy it and feel good about being there and the cause you are supporting," she added.
Smith's son Ryan is one of the founders and leaders with the SPRING program, a student-led program that pairs/connects UNB student volunteers with children with special needs within the Fredericton community in a two-hour gym and swim program at the YMCA each Sunday.
Seeing the commitment from the students to offer the program every week through the school year, given their other commitments and heavy schedules, is quite impressive, said Smith.
"It wows me and makes me proud as a parent and community member to see these young adults placing some priority on community involvement, giving back and making a difference in the lives of others," she said.