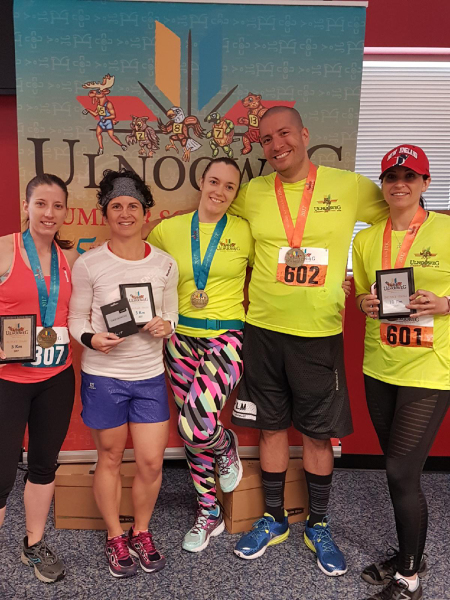 Celebrating the summer solstice

Eighty runners take part in Aboriginal Day event

By Andrew Wagstaff

Maritime Runner
June 24, 2017
MILLBROOK, N.S. – National Aboriginal Day may have been three days ago, but the celebration continued here today with the second annual Summer Solstice Run.
Put on by aboriginal financial institution Ulnooweg, the event featured 10K and 5K runs, as well as a 2K kids' run, with a total of 80 runners taking part.
Chris Googoo, Ulnooweg general manager, said he was happy with how the event went.
"It's our second year and there were no major hiccups, with a few lessons for next year," he said.

Among those taking part in today's Summer Solstice Run in Millbrook, N.S. were (from left) Erica Croke, Maxine Westhead, Kerianne Ryan, Jarvis Googoo and Anne Brochu.

Photo courtesy of Chris Googoo

"We've always heard the line, 'I've never been to an aboriginal community,'" said Googoo. "This was an open invitation to see our community and experience our culture. No pressure, just fun."
Tim Boutilier of Truro Heights was the first finisher in the 10K race with a time of 44:17, followed by Joel Taylor at 44:36 and Vance Kruszewski at 46:10. Top female was Sydney Paul of Fredericton at 59:37, followed by Anne Brochu at 1:00:02, and Jennifer Sylliboy at 1:07:40.
In the 5K, it was Colby Burnham of Truro Heights placing first at 20:53, followed by top female Hannah Arsenault of West Quaco, N.B. at 21:38, and Maxine Westhead at 21:58. Third female was Erica Croke at 21:59, while second male was Kiedis Martin at 36:09, followed by Brady Googoo at 42:20.
For complete official results by Atlantic Chip, visit
here
.
"It's only getting better. I think everyone enjoyed the brunch after the race, and a few door prizes to add as well, for both adults and youth."
Conditions were favourable for running, with cloudy skies but no rain like that experienced in other parts of the region.
The 10K run and the 2K kids' run were new to the event this year, but the goal remained the same.
"It's to highlight Aboriginal Day and the summer solstice as having important significance in our culture," said Googoo. "It's also to improve the relationship between indigenous and non-indigenous communities by simply hosting an aboriginal event focused on health."
The longest day of the year, the summer solstice brings people together to celebrate the beauty of life and the value of community.