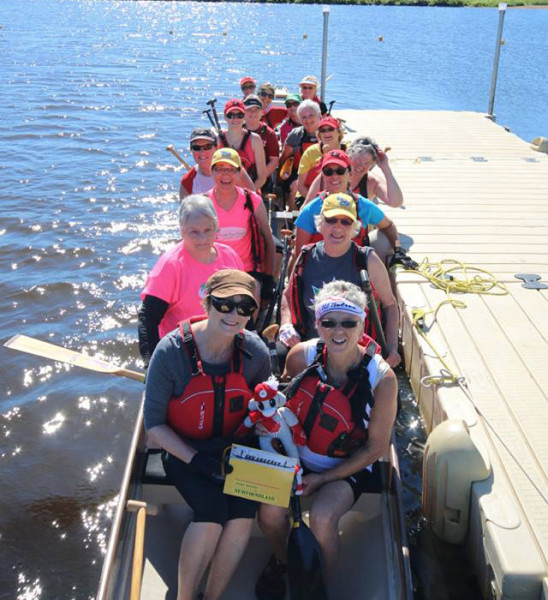 Chasing dragons in Moncton

Breast cancer survivors holding annual fundraiser April 7

By Andrew Wagstaff

Maritime Runner
March 27, 2018
MONCTON, N.B. – 'Tit Bateau is not your average dragon boat team. They are also breast cancer survivors and, for the last few years, they have asked the running community for a little help.
The annual 'tit Bateau Dragon Chase run will take place at Mapleton Park in Moncton on Saturday, April 7. The 10K and 5K Run/Walk is a fundraiser for the team, which paddles all summer and takes part in festivals around the Maritimes.
"One of our members is also a runner, and she felt that it might be a good fundraiser, as well as a way to raise awareness of our team and our mission," said Lorna Fox.

Dragon boating aids breast cancer survivors in rehabilitating their arms and upper body, and helping them avoid lymphedema, a debilitating condition caused by the lymph system being compromised by surgery or radiation.

The 'tit Bateau Dragon Chase run will take place at Mapleton Park in Moncton, N.B. on Saturday, April 7. The event is a fundraiser for the 'tit Bateau dragon boat team, made up of local breast cancer survivors.

Photo courtesy of Lorna Fox

If an arm swells due to an injury, that swelling may never leave because of lymphedema, according to Fox, who said it is expensive and difficult to treat. Therefore, prevention is key.
"In fact, dragon boating for survivors began to prove that women could indeed do this type of exercise and not be harmed," she said. "The results of that study went beyond and showed that it could actually help heal and prevent lymphedema."
Like many runners, the 'tit Bateau members train to compete. They enjoy earning medals and getting together with like-minded athletes, but their activity has its expenses. Their boat and trailer are berthed in Shediac, which comes with a price tag, as does repairs, insurance, storage and travel costs.

"But we fundraise so that we can help ourselves and others like us," said Fox.

"Our mission is to provide a fun and inclusive atmosphere for all breast cancer survivors to come together, improve our fitness, and demonstrate that one can live a vibrant life despite that awful diagnosis."

The Mapleton Park course is a 5K loop, so 10K participants repeat it a second time. It starts out flat and open, then takes in some hills in a more wooded section. It is wide and well-groomed, maintained year-round by the city.
"It's really a quite easy course for any experienced runner, and a nice challenge for a novice," she said.
The organizers are hoping for 100 participants.
For more on the 'tit Bateau Dragon Chase, visit
here
.