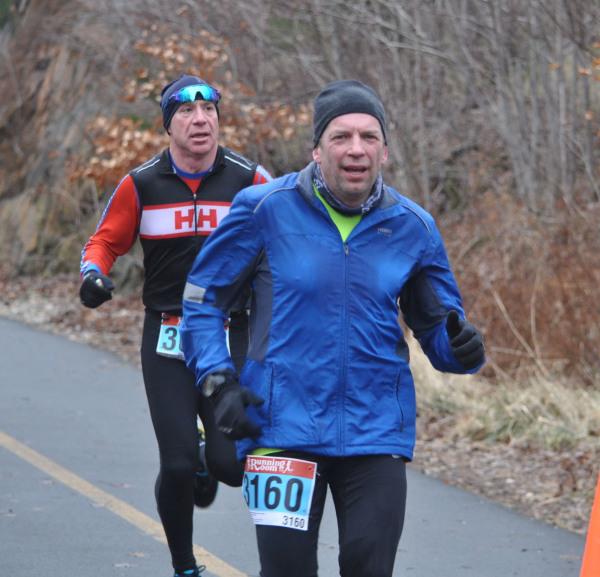 Chediac, Poirier win

Halifax Hypo Half

Three hundred take part in four distances

By Andrew Wagstaff

HALIFAX – Winning as an athlete is one thing, but having success as a coach is pretty special.
Erin Poirier found the best of both worlds at today's Hypothermic Half Marathon in Halifax, where she finished as the top female with a time of 1:30:23, and watched members of her Love More Training More team all have great races.
"Six of my athletes were racing today and everyone had an amazing day," she said. "The cherry on top was a huge half PB for my athlete, Donald Holder, with a 1:25:50 for third place. It was so exciting to watch that happen!"

Another of her athletes, Meghan Ferguson, ran her longest race in six years to finish as the second female in the 10-mile race.

Jerry Pugh (right) and Mike Fougere were among those taking part in the Hypothermic Half Marathon race in Halifax today. Just over 300 runners turned out for races in four distances.

Andrew Wagstaff photo

As for Poirier, she said she did not know how race-ready she was, but was ready to have fun.
"I had this wonderful day, where being fierce and hungry came easy and I was ready to work hard," she said. "On a double out-and-back course, there were lots of high fives and smiles with my athletes as well as my Halifax Road Hammers teammates. The conditions were ideal."
She complimented the organizers from The Running Room, as well as Troy Musseau and the Atlantic Chip timing crew, for helping provide a great event.
Finishing first overall in the half marathon was Mo Chediac of Beaverbank, with a time of 1:23:33, followed by Ryan Chisholm at 1:24:42, and Holder at 1:25:50. Top females after Poirier were Shauna Wilcox at 1:30:50, and Megan White at 1:36:55.
In the 10-miler, it was Josee Gardiner of Lower Sackville finishing first with a time of 1:19:52, followed by top male Jarred Gates of Dartmouth at 1:21:22. Second among females was Ferguson at 1:22:40, followed by Jody Wood at 1:24:10. The second male was Keith Matthews at 1:29:18, followed by John House at 1:33:27.
Greg Thomson finished first in the 10K race, with a time of 40:58.
"It was a nice run," said Thomson. "I was surprised it was so lightly attended."
He said the course was easy, although longer than 10K by his watch. The conditions were nice, with temperature down to about -3C after being unseasonably warm for the previous two days.

"It was cold compared to yesterday, but very pleasant," he said. "After I ran two kilometres I was warm."
Daniel Quinn finished second with a time of 41:34, followed by Christopher Oss at 41:56.
The top female finisher was Mary Jane Keefe of Bedford, with a time of 45:27.
Keefe had originally signed up for the half, but had to make a change after an IT injury in mid-December put that goal out of reach. She plans to return for the half next year.
Despite promising her physiotherapist she would take it easy today, she admitted she went pretty hard.
"It was fun and, fortunately, pain free," she said. "I enjoyed the extra support from my fellow runners. I finished with great memories and a wicked runners high."
Finishing second among females was Jamey Martell at the 49:58 mark, followed by Nikki Richards at 54:55.
In the 5K race, Devin Chediac came first with a time of 27:25, followed by Jack Chediac at 27:31, and Chris Broyden at 27:44. Top females were Wendy Chediac at 32:56, Sarah Sturge at 37:42, and Murielle Major at 38:12.
For complete official results, visit Atlantic Chip
here
.