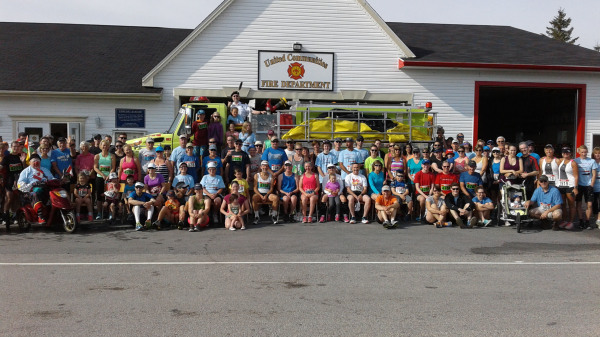 Cherry Hill Fun Run a success

Annual 10K the signature fundraiser for fire department

By Andrew Wagstaff
Maritime Runner
Aug. 3, 2017
CHERRY HILL, N.S. – The United Communities Fire Department received a big boost last weekend, in the form of the annual Cherry Hill Fun Run.
The event, which took place in Cherry Hill on Saturday, July 29, is the signature fundraiser of the year for the dire department, according to race director Larry Blackler.
"It went well," said Blackler. "Everybody was excited and things went off without a hitch. It was better than last year."
It was a beautiful sunny day, but not too hot, conditions that were appreciated by the many runners and walkers taking part. This included many youngsters who were involved in the 1K "Beach and Back" race.

The Cherry Hill Fun Run took place on Saturday, July 29, with more than 200 taking part in the fundraiser for the United Communities Fire Department.

Photo courtesy of Larry Blackler

Everyone else was involved in the 10K run. A total of just over 200 turned out for the day, according to Blackler.
"We work on it from year to year, so a couple more each year would be great," he said.
The fire department has many fundraising activities through the run of a year, from monthly breakfasts to jam nights on every second Thursday. But for a single-day event, none is bigger than the annual fun run.
Money from the event goes toward extra purchases, he explained.

"We have a budget we submit, and that takes care of most of our major purchases," he said. "But this goes towards anything to better the fire hall. We have new firefighters coming in, and a new set of firefighter gear is quite expensive, so it's that sort of thing. We budget for that but this money goes above and beyond."
For more on the United Communities Fire Department, visit
here
.