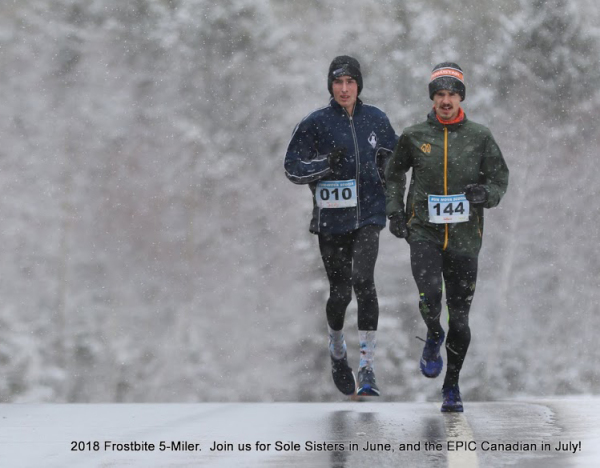 Close finish at Frostbite 5 Miler

Mueller edges Benoit by two seconds in gun time

By Andrew Wagstaff

Maritime Runner
Feb. 19, 2018
LOWER SACKVILLE, N.S. – Their chip times were identical, but Matthias Mueller crossed the finish line two seconds ahead of Jacob Benoit for the win at yesterday's Frostbite 5 Miler.
The two were among 180 runners and walkers to take part in the event, held in conjunction with Sackville Snow Days, and in support of Beacon House.
"I had a great battle with Jacob, nearly right to the line," said Mueller, who came in at 27:56. "It certainly helped to have each other to push the whole way, which made for an exciting race."

Jacob Benoit (left) and Matthias Mueller had a great battle to the finish at the annual Frostbite 5 Miler in Lower Sackville, N.S. on Sunday, Feb. 18.

Tim Chesnutt photo

He said the volunteers were fantastic, as were the people cheering along the course and the post-race snacks and soups.
"Anyone who's brave enough to run outside in the winter will love the Frostbite 5 Miler, and it's a great event for everyone: walkers, joggers or runners," said Benoit.
Finishing in third place was Michael Bergeron at 28:51.
James was happy with her time of 31:49 in challenging conditions.
"I've just come off a hard, three-week training cycle with new coach Derek Salley, so today was supposed to be about test running some new things in a low-key race," she said. "Sackville is my hometown so I love running Frostbite. The squash soup was amazing, the sloppy sidewalks not so much."
She credited Duguay for doing a great job with the well-marshaled course, and amazing post-race food, mugs and medals.
"There was a truckload of food headed to Beacon House after the event, so I think it was a successful day," said James. "But I can hardly wait for spring race season to arrive."

Finishing second among females was Kristen Callaghan at 34:22, followed by Heather Ross at 35:53.
For complete official results by Atlantic Chip, visit
here
.
Coming from Middle Sackville, Mueller does not often have the opportunity to race in his hometown, so enjoyed having friends, family, co-workers and Halifax Road Hammer teammates on hand to offer support.
Deep into training for the Boston Marathon, he said the Frostbite was a great way to mix up his training. He congratulated race director Tim Duguay and all the volunteers for organizing a great race despite challenging winter conditions.
"The fresh snow made the footing quite sloppy in many places, making for tough running conditions, but nothing us East Coasters can't handle," said Mueller.
It was Benoit's first outdoor race of 2018, and one recommended by his coach Paula James, who was the top female finisher this year.
"I had some tough competition, but I always love a close race, and it kept me motivated to stick to a faster pace," said the young Windsor runner, who finished with a gun time of 27:58. "It's not a personal record, although I'm extremely pleased due to the weather, which was taken into account."