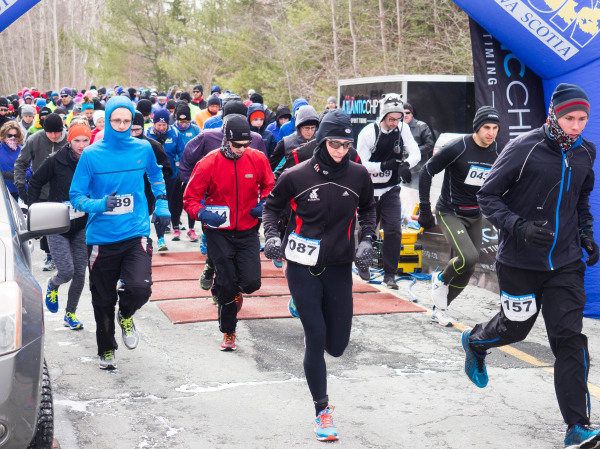 Course improvements

for Frostbite 5 Miler

Run to coincide with Sackville Snow Days on Feb. 18

By Andrew Wagstaff

Maritime Runner
Feb. 13, 2018
LOWER SACKVILLE, N.S. – Safety is always the number one priority for Frostbite 5 Miler race director Tim Duguay, and he is thrilled that the event's course will be even safer this year.
The annual event, which will take place on Sunday, Feb. 18, will benefit this year from having a little more room for runners.
"The local run club, the Lakeshore Runners, years ago put in a petition to make it a little safer along that stretch," said Duguay. "Halifax just finished making that route cleaner, and added a nice lane all the way through to Beacon House."

The annual Frostbite 5 Miler will take place in Lower Sackville, N.S. on Sunday, Feb. 18. Shown here are participants during last year's event.

Lamrock Photography

Essentially a bicycle lane, the addition made an area wide enough to accommodate multiple runners, walkers and bikers.
"There have always been two areas that made me worried, but now that extra lane helps make it so much easier and safer," he said.
Beacon House, which raises money to provide food and clothing to those in need, is also the charity of choice for the event.
Starting and finishing at Sackville High School, the route travels around the area of First Lake, Glendale Drive and Cobequid Road, and many local residents contribute money and food donations along the way.
Hot soup donated by Sobeys will be available to participants as a post-run meal, while also returning will be the large souvenir mugs as finishing prizes.
Duguay is expecting over 200 participants this year.
"The numbers are right where we expect them to be," he said. "Last year kind of hurt us because it was so bloody cold, so people with our event watch every single update to see what we're going to do."

Last year's event had to be postponed due to a large snowfall days before that had left unsafe visibility issues. It's "rain date" in March ended up being about -20C with the wind-chill, making it the coldest Frostbite 5 Miler ever.
This year's forecast appears more promising.
"The temperature is looking the way it should, so we should be pretty good," said Duguay.
An added bonus this year will see the event coincide with Sackville Snow Days, an annual winter festival with a busy schedule of activities.
"This is the first year that we've teamed together, so for any participant who wants to do something afterwards, there will be multiple events going on in Sackville at the same time," he said.
For more on the Frostbite 5 Miler, visit
here
.