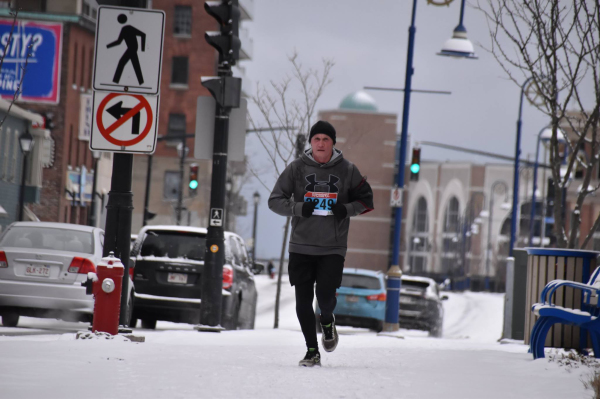 Curnock, Teakles win

Saint John Hypo Half

Fifty-seven finishers in half marathon, 10K races

By Andrew Wagstaff

Maritime Runner
Feb. 18, 2018
SAINT JOHN, N.B. – The Running Room hosted the last of its Hypothermic Half Marathon events for the Atlantic region here today, and the conditions were appropriately winter-y.
"This was a difficult race," said Kevin Curnock. "The first 8K of the race was hilly, and the entire course was under a fresh layer of snow. Footing was tricky, especially up the hills. The race lived up to its name."
The challenges did not hold Curnock back from posting an impressive 1:27:49 time, good enough for first place in the half marathon.

Half marathon participant Gary Keating was among those taking part in today's Hypothermic Half Marathon in Saint John, N.B.

Photo courtesy of Atlantic Running Room Events on Facebook

While Ivan Goguen took the lead early, Curnock passed him on an early hill and tried his best to maintain a constant effort over the bigger hills.
"I am happy with my time and the win was a bonus," he said. "It was nice to have pizza with fellow runners at Brunswick Square after the event. Talking about running with runners is half of the fun."
Light snow greeted participants at the start of the race, but ended about 90 minutes in.
Finishing in second place was Eric Boucher, with a time of 1:30:34, followed by Timothy Nichols at 1:34:08.
The top female finisher was Susan Teakles, with a time of 1:48:36, followed by Sophia Belliveau at 1:50:36 and Brenda Guitard at 1:57:06.

Heather Shadbolt prepared for the race by taking a 16-week training program through The Running Room, and said the event was an amazing.

"I went in with a back injury and wasn't sure I would be able to complete it, but I did," she said. "The staff at The Running Room, who I now consider friends, were there at the finish line, cheering all on. I made a lot of new friends, and can honestly say that I would do it again."

Finishing first in the 10K race was Scott Lee, participating for the second time. He crossed the finish line at the 45:30 mark.

"It's a great event, and nice to have a local winter race to participate in," he said. "It was also nice not to have to go up the bridge on Crown Street this year due to the slight course change."
He improved on his time from last year by 11 seconds, and was there at the finish line to cheer on the half marathon winner, a gesture appreciated by Curnock.
"The snow made things a little slippery this morning and it was just cold enough that I didn't feel comfortable wearing shorts, but overall it was a nice Sunday morning winter run," said Lee.
Finishing in second place was top female finisher Cynthia Collins, with a time of 57:38, followed by Christine Sands and Sheri Somerville at 1:07:35. The only other male participant was Donald Caissie, coming in at 1:45:40.
For complete results, visit the Running Room event page
here
.