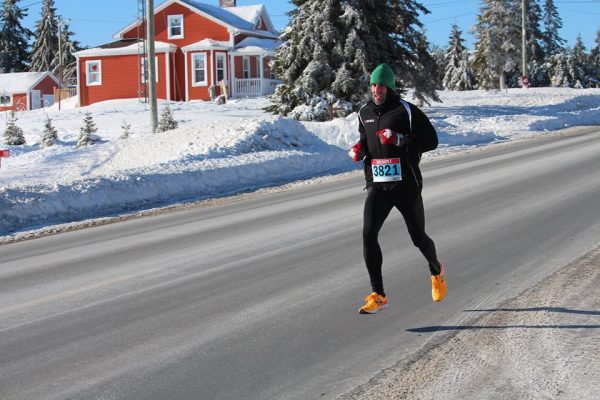 Demi-marathon de l'Acadie returns Feb. 4

Favourable weather conditions expected for monthly race

By Andrew Wagstaff

Maritime Runner
Jan. 30, 2018
TRACADIE-SHEILA, N.B. – They have postponed before, but they have never canceled.
For more than 30 years, the Demi-marathon de l'Acadie has taken place every month from St-Isidore to Tracadie, and the 364th edition of the race is scheduled for this coming Sunday, Feb. 4.
Like all runs at this time of year, the turnout is always dependent on the weather, according to race director Donald Wade.
"The forecast right now is looking pretty good," he said. "It's not going to be that cold, so that should attract more runners."

Greg Sawyer was the winner of last year's February Demi-marathon de l'Acadie in Tracadie-Sheila, N.B. The next edition of the monthly race will take place on Sunday, Feb. 4.

Photo courtesy of Demi-marathon de l'Acadie

The January race was very cold, estimated at around -25C with the wind chill, and attracted only 13 participants, the lowest turnout since 2010.
Sunday's temperature is expected to be around a more reasonable -4C.
"Running in the winter time is always dicey," said Wade. "You never know what to expect, but a lot of runners enjoy having these races because it keeps them abreast of their training objectives, and they enjoy a race once in awhile."

With no runs scheduled in Miramichi this weekend, Wade is hoping to
attract some runners from that area, as well as the locals, and the
regulars who come in from places like Bathurst and Edmundston.

"It's always nice to have newcomers, but in the winter we don't expect them," he said. "They are always a nice surprise."

While the races take place on the well-traveled Route 160, which is well maintained, Wade warned runners to be careful of snow and ice that might be on the shoulder of the road.
For more on the 364e Demi-marathon de l'Acadie, visit
here
.