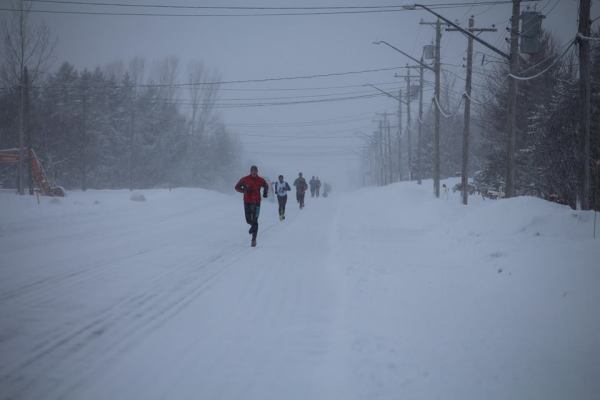 Demi-marathon de l'Acadie returns Jan. 7

Monthly event installs new early start rule

By Andrew Wagstaff

Maritime Runner
Jan. 3, 2018

TRACADIE-SHEILA, N.B. – The monthly Demi-marathon de l'Acadie series will return this weekend, with a new rule to help bring everyone to the finish line a little closer together.
Runners will have the option of starting the race a half hour before the official 10 a.m. start, if they feel they need the extra time, according to race director Donald Wade.
The first race of the year – the 363rd since the event began in 1987 - will take place on Sunday, Jan. 7, on the familiar route between St-Isidore and Tracadie-Sheila.

"For the half marathon, we always have to worry about people who want to try the distance but are not feeling comfortable with the time lapse they have to finish it in," said Wade.

The 363e Demi-marathon de l'Acadie will take place in Tracadie, N.B. on Sunday, Jan. 7. Shown here are participants during last year's snowy January event.

Photo courtesy of Demi-marathon de l'Acadie on Facebook

"We decided to set the new rule so everyone would be in line with us."
Anyone who expects to take more than two hours and 20 minutes to complete the distance – an average of about seven minutes per kilometer – will be allowed to start at 9:30 a.m. A race official will be there to mark the start of their race, and will then transfer the chronometer to those handling the official start at 10.
"This way, these people will have a timed race that is official, instead of doing it themselves," said Wade. "In the past, we used to say 'Just tell us your time when you arrive,' but that was not proper. We want to make sure we had their real time on record."
The new rule should also ensure all participants finish closer to the same time, keeping the post-race lunch and awards on schedule, according to Wade, who said they want to make sure their volunteers are finished the day's chore's after two-and-a-half hours.

It is not uncommon for the race to see new runners in January, and Wade is hoping for more of the same.
Last year's January event drew 22 runners, although snowy weather and slippery roads kept some runners from out of town from making the trip. The region's first major snowstorm is forecasted for Thursday into Friday, but is expected to be cleared up by Sunday.
"The weekend looks good, but is going to cold apparently," he said. "It's winter in New Brunswick and that's what it's always been. We can deal with that."
For more on the 363e Demi-marathon de l'Acadie, visit
here
.