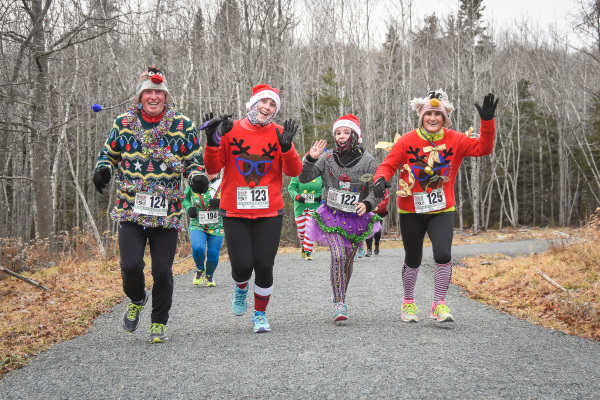 Add Your Title HereFestive, fit and fashionable in Pictou County

Almost 200 take part in Ugly Sweater Run

By Andrew Wagstaff

Maritime Runner
Dec. 18, 2017
NEW GLASGOW, N.S. – Festive fashions were in here on Saturday, Dec. 16, as close to 200 people took part in the annual Ugly Sweater Run hosted by the YMCA of Pictou County.
Everything went well, according to communication, community outreach and philanthropy manager Heidi Sinclair, who was quite pleased with the turnout.
"The run is a family event to encourage people to get outside, to get moving, and to spend time together being active," she said.
The approximate 5K route took participants from the YMCA building through the Old Foster Trail to the Pioneer Coal Athletics Field and back.

Close to 200 participants turned out for the annual Ugly Sweater Run hosted by the YMCA of Pictou County in New Glasgow, N.S. on Saturday, Dec. 16.

Bob MacEachern photo

"This route gave participants an opportunity to see and use the 'new' trail as well as the track," said Sinclair. "This event highlighted outdoor spaces that can be used to be active that are in our backyard."
New additions to this year's event included a white hot chocolate stop, a mistletoe station that offered chocolate kisses and dog treats, a candy cane station and Christmas carolers.

Awards handed out afterwards were as follows:
Best Sweater – Natasha Auld;
Best Pet Attire – The Kearley's Puppy;
Best Family Outfits – The Malenfant Family;
Best Large Group Cheer – The Pictou Learn to Run Group.