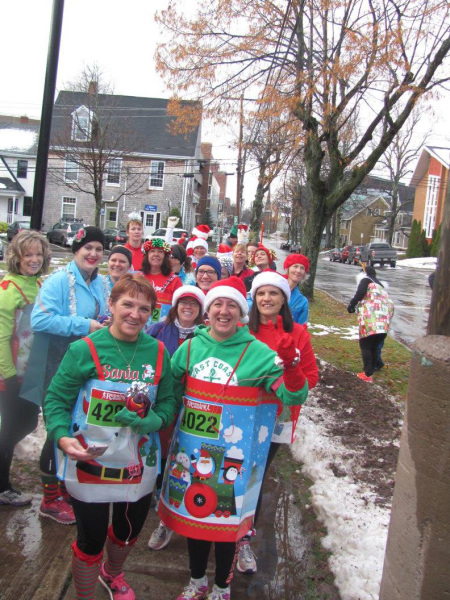 Five Maritime cities,

one great cause

Santa Shuffle events to support Salvation Army

By Andrew Wagstaff

Maritime Runner
Nov. 27, 2017
FREDERICTON – John Acheson has a specific request for Mother Nature, when she deals out the weather conditions for Saturday, Dec. 2 in the Maritimes.
Acheson is events coordinator for The Running Room, which works closely with the Salvation Army to put on the annual Santa Shuffle fundraisers.
"The only thing we do not hope for is a complete blizzard, or really cold temperatures, because it's more of a family event, and it's not great for kids if it's too cold," he said. "Ideally, it snows, with just a little bit of white on the ground, but not too much, so the trails can be actively used."

Santa Shuffle events will take place in five Maritime cities on Saturday, Dec. 2 in support of the Salvation Army. Shown here is a group from last year's event in Charlottetown.

Photo courtesy of Atlantic Running Room Events on Facebook

That might be a tall order, considering the wide range of weather conditions that can hit the Maritimes at this time of year, and that Saturday's events will be spread throughout the region in five different cities – Charlottetown, Dartmouth, N.S., Fredericton, Moncton, N.B. and Saint John, N.B.
All proceeds will go to the Salvation Army and its programs to offer assistance for children and families, shelter for homeless people, and rehabilitation for people with addictions.
"It's a great event and a great cause," said Acheson. "The Santa Shuffle is really unique because it is more focused on the family fun element, rather than the racing side, like other events. So we get a lot of Salvation Army people participating, getting into costume, enjoying the festive time of year, and a run at the same time."
All of the events will be 5K runs, with 1K walk options, and have opportunities for families and groups to register together as well.
All of the Maritime runs will make use of trail systems in that particular city, such as Saint John and Charlottetown, and when possible are located near or beside that city's Salvation Army headquarters. The Moncton Salvation Army, for example, is located near a popular part of the trail, making it particularly convenient.

The "Halifax run" will actually take place at Dartmouth's Shubie Park, while Fredericton organizers will once again try to use a new route designed specifically for the event, as heavy snowfall has resulted in an alternate location being used in recent years.
"We've had it planned out for three or four years, but haven't been able access it in any of those years," he explained. "It always seems to snow just the week before, wrecking it."
The events have a tradition of being well received, and this year looks no different. The largest of the five will be the Halifax event, which could pass the 700 mark by the end of this week. Moncton is expected to draw close to 500, while Fredericton will see close to 300, Saint John around 100-150, and Charlottetown close to 100.
"The numbers are strong, and have been strong for the last 3-4 years," said Acheson. "About three years ago, registration at all locations jumped like crazy, and has stayed steady thereafter."