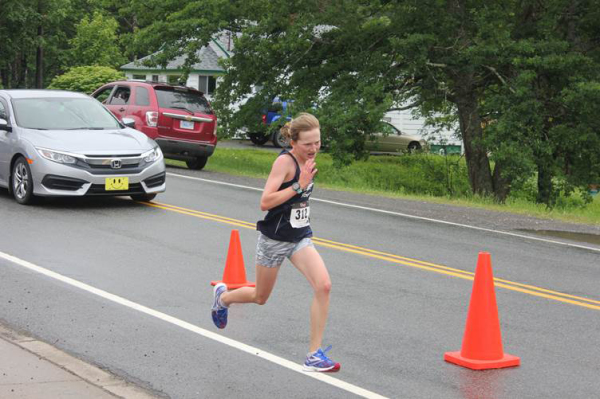 Forsey, Macleod win Marion Bridge 10K

Annual event draws 50 participants

By Andrew Wagstaff

Maritime Runner
July 11, 2017

MARION BRIDGE, N.S. – Cindy Hynes was thrilled to see clouds in the sky on Saturday for the Marion Bridge 10K race.
"The usual 30-degree-plus day ended up being cloudier with a 20-25-degree temperature and it was very humid," said Hynes, organizer of the race. "The race went very well."
Fifty runners took part in the annual event, up from last year's 40.
James Forsey was first across the finish line with a time of 38:36, followed by Jonah Hudec at 39:28, and Kelson Devereaux at 39:36.
Top female was Caden Macleod, with a time of 44:10.

Caden Macleod was the top female finisher at the Marion Bridge 10K on Saturday, July 8.

Photo courtesy of Limitless Race Timing

The 14-year-old runner said the race was very well organized, with a nice post-run gathering.
"It wasn't too hard, but it was a challenging run with lots of gradual ups and downs," she said. "Also, it was nice that the course was exactly 10K. The last few races I have done, haven't been."
The second place female was Tanya Brann-Barrett at 46:43, followed by Wavey Burke at 48:07.

For complete official results by Limitless Race Timing, visit
here
.
The Marion Bridge 10K dates back more than 25 years. Town recreation staff is involved with preparing for the race and hosting the event. The Cape Breton Regional Municipality police led the race, while members of St. John Ambulance took up the rear, ensuring the safety of the runners taking part.