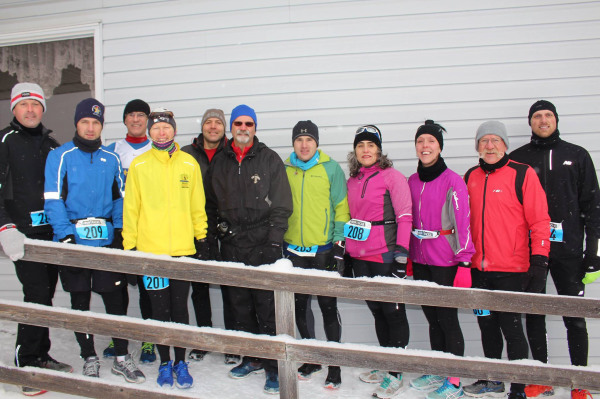 Fortin, Theriault Roy win Demi-marathon de l'Acadie

Cold wind, small field for 2018 season kick-off

By Andrew Wagstaff

TRACADIE-SHEILA, N.B. – Staring down the cold winter winds of northeastern New Brunswick, Mathieu Fortin saw an opportunity to win his first race today.
The Caraquet runner was one of 11 runners and two walkers who braved the conditions for the monthly Demi-marathon de l'Acadie. The event had been postponed from the previous weekend due to snow and cold.

It was a small but mighty crowd taking part in the 363e Demi-marathon de l'Acadie today, braving the cold temperature and slippery conditions for the monthly trek from Saint-Isidore to Tracadie-Sheila, N.B.

Photo courtesy of Demi-marathon de l'Acadie on Facebook

"There weren't a lot of runners today, but there were a few that could be a threat, so I poured it on from the start, and I literally never looked back," he said. "This was my chance to win a race, and I took it. It felt great!"
Fortin finished in first place with a time of 1:30:11, running in conditions that were challenging not just because of the cold. The road shoulder was also slippery due to ice and snow, requiring runners to use the car lanes as much as possible.
"This race was special for me because I had a feeling I could win it for the first time, and I did," he said. "My wife and kids were very proud of me because they knew how hard I train for my races, and I'd never won a race before."
Finishing in second place was Patrick Hache at 1:32:14, followed by Sebastien Poirier at 1:39:01.
Hache guessed the cold temperature, estimated at around -25C with the wind-chill, had a lot to do with the small crowd today.
"Usually in the winter months it takes 2-3 km to unfreeze my toes and fingers," he said. "This time, it took around 6K. Once the toes and fingers are back to normal, we don't feel the cold and it only becomes one of many races."

Running on a slippery surface like packed snow is good for runners because it forces them to adjust their strides, according to Hache, who credited the organizers for putting on another great event.
"This type of weather is a lot tougher for the volunteers than the runners," he said. "We are very fortunate to have such a dedicated group of volunteers at the Demi-marathon de l'Acadie."
The top female finisher was Nathalie Theriault Roy of Beresford, with a time of 1:39:57, followed by Silvia Antuna at 1:54:49, and Marcelle Breau at 1:57:30.
"My run today was so much better than I was expecting," said Theriault Roy, whose goal; was to finish sub-1:45:00. "Running Tracadie is helping me with my Boston Marathon training so I'm grateful to have them."
It was the smallest crowd for a Demi-marathon de l'Acadie since 2010, according to race director Donald Wade, who said it was fun and went well.
Next up for the event will be the 364e Demi-marathon de l'Acadie on Sunday, Feb. 4.