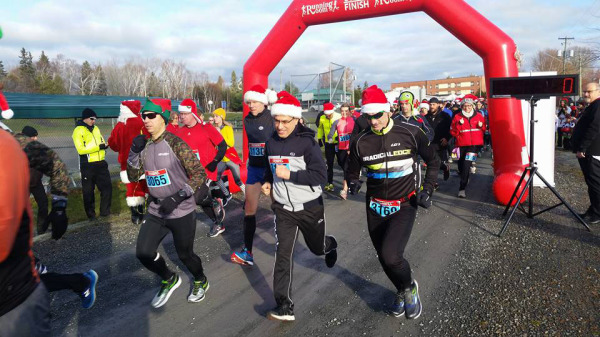 Green grass, warm weather

for Santa Shuffle events

Five Maritime runs held in support of Salvation Army

By Andrew Wagstaff

Maritime Runner
Dec. 2, 2017
FREDERICTON – It may not be a white Christmas yet in the Maritimes, but today's Santa Shuffle events across the Maritimes did not seem to be lacking in spirit, according to John Acheson.
"From what I've seen so far, everything seems to have gone very well," said the Running Room's events coordinator for the region. "The weather definitely cooperated, that's for sure."
Acheson was on the scene for the Fredericton event, one of five 5K runs taking place in Maritime cities this morning. The turnout in the New Brunswick capital was more than 250 participants, many of them dressed up for the occasion.

Santa Shuffle runs were held in five Maritime locations this morning – Charlottetown, Dartmouth, N.S., Fredericton, Moncton, N.B. and Saint John, N.B. Shown here are participants in the Fredericton run.

Photo courtesy of Atlantic Running Room Events on Facebook

All five events – Charlottetown, Dartmouth, N.S., Fredericton, Moncton, N.B. and Saint John, N.B. – were treated to warm temperatures for the season, with very little wind.
While Acheson had yet to get reports on all of the locations, he said the Halifax and Moncton events both went off without a hitch. The Halifax event drew about 650 participants to Dartmouth's Shubie Park, while Moncton saw about 400 taking part.
All Santa Shuffle events were held in support of the Salvation Army, with proceeds going to help people in need in each of the five communities.

Feedback was positive on the new route for the event, which ran through a quiet wooded area along the north side of the Saint John River.
"We were able to use the course we've basically been planning to use for the last four years, but hadn't because of the weather," he said. "It was a green run, I guess you could call it. There was a little frost on the ground, but once the sun came out it melted and all that was left was the green grass."