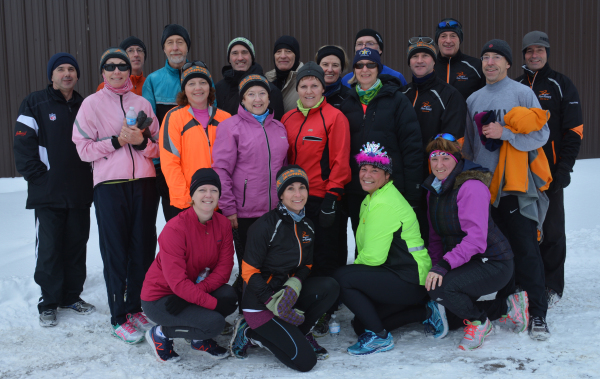 Guess your time at the

Rocky Blackmore 5K

New Year's tradition returns to Miramichi Jan. 1

By Andrew Wagstaff

Maritime Runner
Dec. 22, 2017
MIRAMICHI, N.B. – There is only one rule at the Rocky Blackmore New Year's Day 5K – no GPS or watches allowed.
In the spirit of the fun run, participants must turn in their watches prior to the start of the race, and must predict their finish times. Whoever comes closest to their predicted time is declared the winner of the race.
"If two people are tied, then the one with the fastest time wins," said Brian Richard, a past president of the Miramichi River Runners. "And we've had that happen before."
Named after one of the founding members of the club, the Rocky Blackmore 5K serves as a soft start to the annual race series put on by the River Runners.

The annual Rocky Blackmore New Year's Day 5K will take place in Miramichi, N.B. on Monday, Jan. 1. Shown here are the participants who turned out on a snowy day for last year's event.

Photo courtesy of Brian Richard

This year's event, taking place on Monday, Jan. 1, will also serve as the first race on the club's new 5K course.
"We're expecting it to be a lot faster," said Richard. "It takes out a corner and a section of crossing the road. This way, you just keep motoring down further and around the corner."
The former route, which was believed by many to be the fastest 5K course in New Brunswick, took runners along a busy section of the King George Highway, with traffic entering and exiting a Tim Hortons restaurant making for a particularly hazardous area. The new route runs parallel to that section.
This year's series also returns to a 9 a.m. start time for the races, after switching to 10 a.m. a few years ago.

The earlier start time will also make for less traffic, according to Richard.
"We polled a lot of people who live away and asked them about it, and there wasn't one who was negative about changing it," he said. "In fact, they all wanted 9 a.m. Most races around the province are early in the morning."
The turnout on New Year's Day – and for the rest of the winter, for that matter – will be largely weather dependent.
Last year's Rocky Blackmore 5K
came during and after 10 cm of snowfall, and drew only 22 participants.
"Everything from now until April will be dependent on the weather," said Richard.

For more on the Rocky Blackmore New Year's Day 5K, visit
here
.