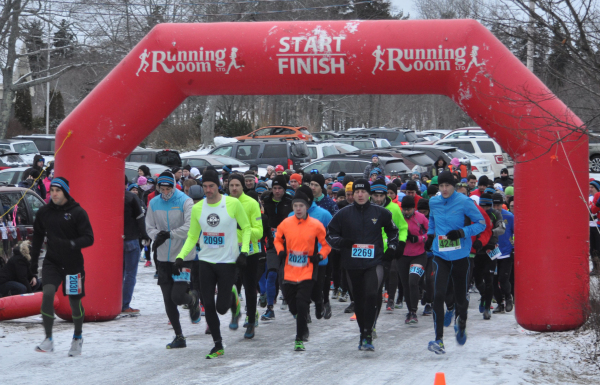 Halifax Hypo Half adds 10-miler

More than 300 registered for Jan. 14 event

By Andrew Wagstaff

HALIFAX – Organizers of next weekend's Hypothermic Half Marathon event here are hoping conditions will be a little less hypothermic than they were this past weekend.
Extreme cold temperatures caused the postponement of Sunday's MEC run at Point Pleasant Park, but Running Room events coordinator John Acheson is optimistic that Sunday, Jan. 14 will be a good day to launch this year's Hypo Half series in the region.
"The weather looks favourable so far, maybe some flurries here and there," said Acheson. "We're hopeful it will be on our side when it comes to this weekend."

Add Your Title HereThe annual Hypothermic Half Marathon will be held in Halifax on Sunday, Jan. 14. Shown here are participants during last year's event.

Andrew Wagstaff photo

More than 300 people are registered for this year's event, which will once again start at the Old Ashburn Golf Course on Joseph Howe Drive, making use of the Chain of Lakes Trail.
New to this year's event will be the addition of a 10-mile distance, while other distances will include the half marathon, 10K and 5K.

Why offer the 10-miler? The better question might be 'Why not?'
"One of our stores in Halifax was offering a 10-miler clinic," Acheson explained. "One of the benefits of that route, is that to put in an additional event is not all that complicated. If it was a point-to-point, or a circular rather than the out-and-back, it would make it definitely more challenging."

Runners will make use of a popular section of the trail that is maintained by the city through the winter, traveling through Bayers Lake Park to Horseshoe Lake Drive before returning. Those running the half marathon will run the course twice.
All runners will start at the top of the golf course parking lot, except for the 10K participants, who will start a little further down the trail.

"That way they can hit the last water station," explained Acheson. "Otherwise, they kind of miss it."
For more on the Halifax Hypothermic Half Marathon, visit
here
.