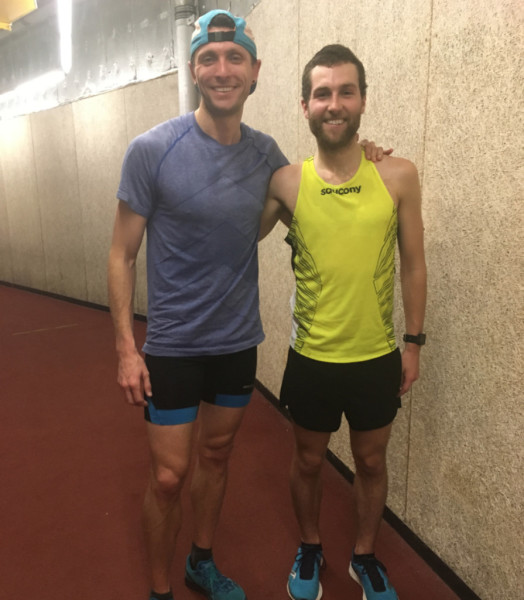 Halifax runners named

to Saucony team

McNeil, Smith among 13 runners selected to Hurricanes

By Andrew Wagstaff

Maritime Runner
Jan. 15, 2018
HALIFAX – Matt McNeil and Kyle Smith will be wearing plenty of Saucony gear this year.
The two Halifax Runners were among 13 athletes named to the 2018 Saucony Hurricanes lineup recently, and will represent the brand in their competition and training this year.
It will be McNeil's second straight year with Saucony, a brand he has been wearing since high school.
"Having the support Saucony and my Hurricane teammates goes a long way in helping me pursue my athletic goals," he said. "It feels good being on a team of elite athletes from coast to coast, following each other's results and supporting each other along the way."

Halifax runners Kyle Smith (left) and Matt McNeil were among those named to the 2018 Saucony Hurricanes team recently.

Photo courtesy of Matt McNeil

Through his own running experiences and his days working at Halifax store Aerobics First, McNeil can easily talk about footwear and gear in detail, and make recommendations to fellow runners.
"Being on the team is also a big encouragement to continue to train hard and pursue my goals as a post-collegiate runner," he said. "It's a great feeling, knowing that Saucony is trusting me to represent their brand well and that I can hopefully inspire others within the running community."
Recently relocated from Toronto, Smith has been a Saucony Hurricane athlete since 2010, and said the company has supported him during his track and field career and in road racing.

"They've been with me when I've run faster than I've ever thought possible and through every injury I've had," said Smith. "It's a community that supports runners; all runners regardless of their abilities, and wants to help people reach their goals."
To make the team, athletes are expected to meet some basic performance guidelines at different distances, but also to be active on social media and be involved in their communities.
As officially sponsored athletes, they will receive full competition kits and uniforms, footwear and apparel, entry into Saucony-affiliated races, and product discounts.