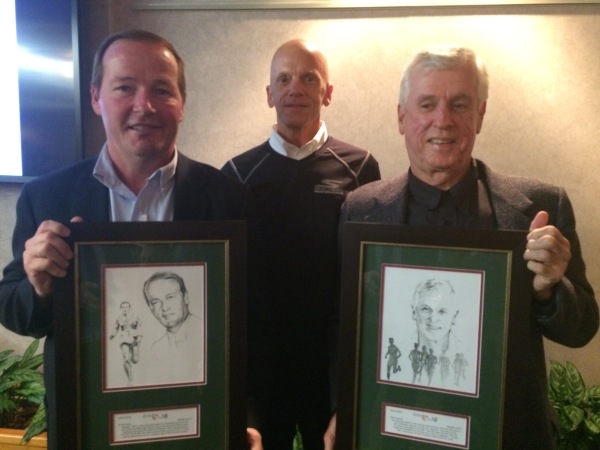 Hare, Lavoie join Run New Brunswick Hall of Fame

Induction ceremony featured at annual banquet

By Andrew Wagstaff

Maritime Runner
Nov. 19, 2017

FREDERICTON – They followed different paths to get there, but on Saturday night Scott Hare and Paul Lavoie found themselves being inducted into the Run New Brunswick Hall of Fame.
Hare was inducted by Brian Richard, a man he credits as being instrumental in bringing him into the sport of running.
Richard listed the many achievements of the athlete, particularly during the period of 1983 and 1992, when he "dominated long distance running events within the Province of New Brunswick."

Scott Hare (left) and Paul Lavoie (right) join Run New Brunswick chair Rob Jackson after being inducted into the Hall of Fame at the organization's annual banquet in Fredericton on Saturday, Nov. 18.

Andrew Wagstaff photo

Hare won multiple 20K and 10K provincial championships, setting records in both distances, won numerous athletic awards during his years competing for the University of New Brunswick. He set the provincial 10,000m record in 1984, and several road race records that still stand today, including his 15:00 at the Miramichi 5K and 1:09:17 at the St. Francois Half Marathon.
He retired from competitive running in his mid 20s, but later excelled in triathlon and duathlon, finishing five Ironman races and becoming the first New Brunswicker to qualify and finish at the World Ironman Triathlon Championships in Hawaii. He still competes in Ironman and half-Ironman events around the world.
"His constant drive and dedication to the sport not only make him an exceptional athlete, but also serve as a role model for members of his community and a lesson that it's never too late to learn a new skill and be the best that you can be," said Richard.
Hare said it was a great honour to be inducted into the Hall of Fame.
"I have very fond memories of the different people and different events throughout the province," he said. "Back in those days, they treated us very well and it was a social event. I used to get criticized from my coach because he was trying to get me on the track, and my heart was in road racing."
Lavoie was inducted by longtime friend Mike McKendy, who spoke about his contributions to the sport as both a runner and a builder, playing key roles as a founding member of the Capital City Road Runners and as an organizer of the Fredericton as Marathon, for which he has served as race director for almost 20 years.

"Paul exemplifies the committed runners who not only embraces running for his own health and benefit, but for decades has served as a booster and mentor organizer for athletics in a broader sense," said McKendy.
Lavoie also served 20 years as Run New Brunswick's treasurer, and has contributed to the triathlon community, serving as race director for the Harvey Community Days Triathlon.
Amidst jokes that kept the room laughing, Lavoie said he could not be more honoured with the induction.
"When I started running 40 years ago, I would have never expected to be standing here tonight, in front of friends and fellow runners, to be recognized for something that just seemed like a natural extension of my love for this sport and my sense of community," he said.
He thanked all the committee members he has worked with over the years, as well as the countless runners, young and old. He told them to give back whenever and wherever they can.
"The question we are often asked is about the purpose of life," aid Lavoie. "For me, the answer is simple. Be of service to others. Get involved in your community, and encourage others to develop a healthy lifestyle."

The Hall of Fame induction ceremony followed the presentation of several other awards at ther banquet. Visit
here
for more.