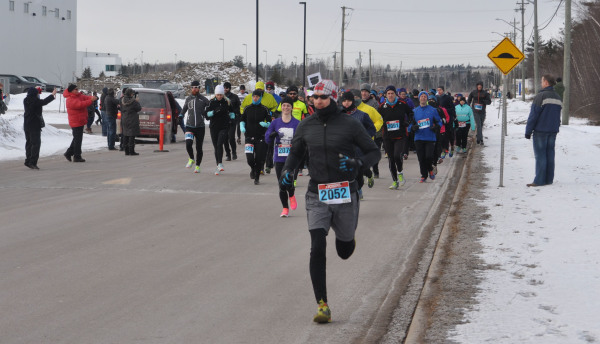 Hypo Half returns to

Moncton Feb. 4

Numbers down slightly for annual event

By Andrew Wagstaff

Maritime Runner
Jan. 22, 2018
MONCTON, N.B. – Organizers are hoping for another successful Hypothermic Half Marathon here on Sunday, Feb. 4, although a little less hypothermic would be preferable.
Last year's sellout event met with double digit frigid temperatures, a memory that might be lasting enough to be having a slight impact on this year's numbers, according to Running Room Atlantic events coordinator John Acheson.
"We're down a little bit but that's not too unexpected," he said. "It was pretty cold last year, and I suspect a lot of people still remember that. It's not far down but it is a little down, and I expect we may get a little bit of a flurry as the event comes along and the weather is cooperating with us."

The Running Room will host the annual Hypothermic Half Marathon in Moncton, N.B. on Sunday, Feb. 4. Shown here are participants during last year's frigid affair.

Marlene Wagstaff photo

Once again the event will feature half marathon, 10K and 5K races, all centered at the Caledonia Industrial Park.
The location works well for a couple of reasons, including its light weekend traffic, according to Acheson.
"Even if there is traffic, the roads are pretty wide," he said. "It's not an issue running down there and bumping into a little bit of traffic, because the roads are so wide there is lots of room for runners and traffic."
With not a lot of running events on the calendar at this time of year, races like the Hypo Half provide a good opportunity for those looking to keep active in the winter. It's also a good fitness tester for those planning spring marathons or half marathons.

Like any event in February, however, the success of this event will depend largely on Mother Nature. The Halifax event on Jan. 14 was fortunate to receive a temperature only slightly below zero, with very little wind.
"Unfortunately we do play a little Russian roulette, in terms of what the weather will bring, but hopefully we will have nice weather for it," said Acheson. "A nice, sunny day, a few degrees above zero would be perfect."
For more on the Moncton Hypothermic Half, visit
here
.