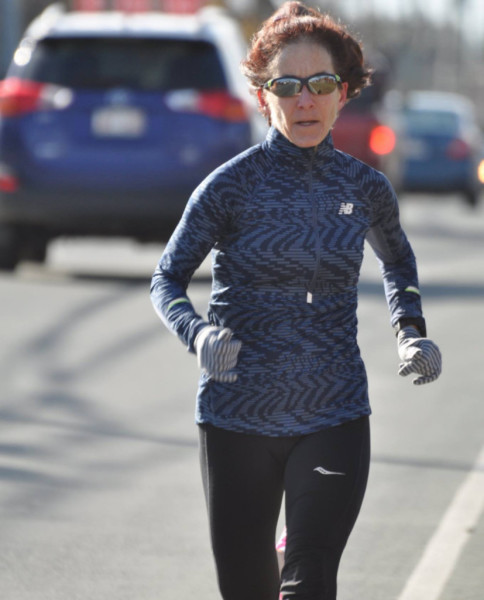 Keating wins Miramichi Fall 10K

2017 series to wrap up with 5K on Nov. 12

By Andrew Wagstaff

Maritime Runner
Nov. 8, 2017
MIRAMICHI, N.B. – Fresh off her strong showing in the half at the Scotiabank Toronto Waterfront Marathon two weeks ago, Paula Keating remained in fine form at Sunday's Miramichi Fall 10K.
The New Brunswick Sports Hall of Famer finished first among 33 runners with a time of 39:27.
"It was a fun race," said Keating. "I felt good so I threw in a small surge between 6-7K. Nobody came with me, so I just kept going, hoping I could hang onto my lead until the finish line."

Paula Keating of Miramichi won her hometown 10K race on Sunday, Nov. 5 with a time of 39:27. The Miramichi River Runners will wrap up their annual race series with the November 5K on Sunday, Nov. 12.

Norma MacLean photo

Joncas took the lead after the first kilometer, which he held for the first half of the race.
"For the first 5K, I just felt like I had four shadows," he said. "I don't have the chance to race in a pack like that. It was a great experience and it was very fun. At the 6K, Paula took the lead for the rest of the race."
Joncas was very happy with his time, which was a second best in the 10K for him this year.
Finishing third among males was Paul Comeau at the 41:06 mark, while Amy Barrieau was the third female at 45:42.
For complete results, visit the Miramichi River Runners page
here
.
The club will host the final race of its 2017 series on Sunday, Nov. 12, with the Miramichi November 5K.

She was more than 20 seconds faster than her time at the same race last year, and was pleased with her result, also complimentary of her fellow runners.
"There was some great racing from Johanna, the young German exchange student, and Raymond Caissie, who continues to amaze at nearly 70 years of age," said Keating.
Johanna Borris finished second, with a time of 39:49, followed by Caissie as the top male finisher at 39:54. In fourth place was Marc Joncas, with a time of 40:24.
"I was feeling very good at the start, but I knew all the great runners around me," said Joncas. "I knew for sure that Paula was too strong for me at this distance, and Johanna and Paul beat me last week at the 5K XC."