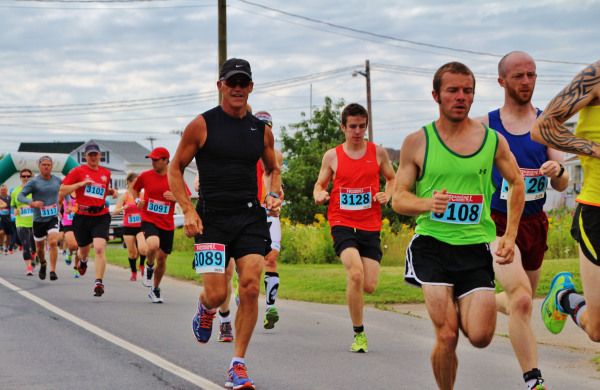 Lameque to host N.B.

5K championship

More than 100 expected for third annual race

By Andrew Wagstaff

Maritime Runner
July 28, 2017
LAMEQUE, N.B. – Some of New Brunswick's fastest runners are expected to be heading to this northeastern island on Saturday, Aug. 5 for the 5 km de Lameque.
The third annul event will be Run New Brunswick's provincial championships in the 5K this year, and is also part of its Super Series.
The event has been well received since it was created by Eric Girard and Marc-Andre Paulin in 2015.
"We had talked together about creating an event for the local runners," said Paulin. "The goal of the 5K, first of all, is to promote physical activity in our communities and to help people discover our beautiful region."

The third annual 5 km de Lameque will take place in Lameque, N.B. on Saturday, Aug. 5. Shown here are participants during the inaugural run in 2015.

Photo courtesy of Marc-Andre Paulin

They soon found out it would attract more than just the local population.
"We were very surprised when we counted the number of participants at 90 the first year," he said. "Last year, we reached 108 runners and the most of them came from outside the region."
The course is flat and takes place mostly on paved bicycle trail in Lameque, with a nice view of the water.
The top three male and female finishers will receive cash prizes of $200, $125, and $50, respectively, while $300 will also be offered to anyone who breaks the course record. Lee Roy of Bathurst holds the current course record of 15:55.

Paulin hopes to see the event continue to grow in years to come.

"We hope that the event will be recognized outside of New Brunswick and we'd like to add a 10K run," he said.
For more on the 5km de Lameque, visit
here
.