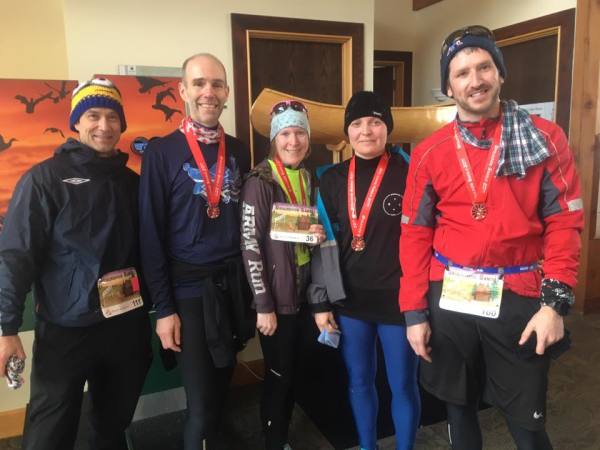 Leaving your fate to Shubenacadie Sam

Groundhog Gamble returns on Feb. 4

By Andrew Wagstaff

SHUBENACADIE, N.S. – Shubenacadie Sam will emerge from his winter slumber on Friday to do more than just let us know when to expect spring's arrival.
For the second straight year, the furry prognosticator will also determine the distance of the annual Groundhog Gamble run, which will take place at Shubenacadie Wildlife Park on Sunday, Feb. 4. If Sam does not see his shadow on Groundhog Day, Friday, the run will be a 5K. If he does, then six more kilometres will be added.
Race director Paul Merrigan, who promotes the event in his @RunAtCan Twitter chat, said the second annual event almost did not happen this year, until he got a call from Sue Penny of the wildlife park.

The second annual Groundhog Gamble run will take place at Shubenacadie Wildlife Park in Shubenacadie, N.S. on Sunday, Feb. 4. Shown here are participants from last year, (from left) Kevin Dutchak, Donald Perry, Sarah Wrightly, Sherry Brennan and Durwin Brennan.

Photo courtesy of Durwin Brennan

"Admittedly, the event had been on the back burner for me just with other commitments and feeling overwhelmed," said Merrigan. "It was a highlight of 2017 for me, so I was glad that Sue made a last attempt to see if we could do another Groundhog Gamble."
This year's event will be a streamlined affair. There will be no registration fees, no official timing, and no participation medals. But the fun will be back, as will the post-run food and draw prizes.
"It will essentially be an organized fun run," he said. "People are encouraged to make a donation to the park in lieu of a registration fee."
The entire route is located within the wildlife park, but is kept away from the animals in residence so as not to disturb them.

Last year's inaugural event was successful on a chilly February day, and ended up being a 5K run as determined by Sam.
"I really have no idea what the turnout will be this year, I'm just grateful that the event will continue," said Merrigan. "I do anticipate a rebound and much bigger event in 2019, as the Groundhog Day festivities will be on a Saturday, and the current plan is to have the run on the same day. So people will only find out the distance a few hours before."
For more on Groundhog Gamble 2.0, visit the event's Facebook page
here
.