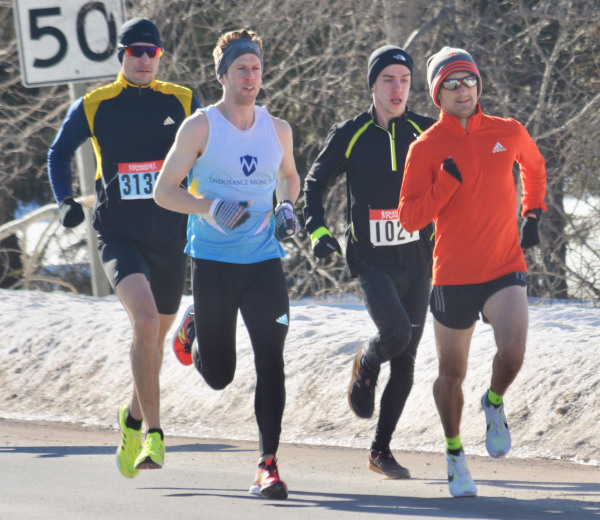 March brings speed to Miramichi

Fast 5K times may get faster on new course

By Andrew Wagstaff

Maritime Runner
March 8, 2018

MIRAMICHI, N.B. – Winter is far from over here in March, but the annual March 5K race often seems to draw a good crowd of runners.
Last year's event saw 50 participants, and plenty of fast times were laid down. Jeremie Pellerin won the race for the second straight year, with a time of 15:39, while Laura Dickinson ran it in 17:36.
"Usually, the gunners come out when it's nicer weather and the roads are good," said Brian Richard of the Miramichi River Runners.

The annual March 5K race will take place in Miramichi, N.B. on Sunday, March 18. Shown here are participants during last year's race, (from left) Alexandre L'Heureux, Jean-Marc Doiron, Bryan Thomas and Jeremie Pellerin.

Brian Richard photo

This year's event will take place on Sunday, March 18.
"The reason we moved it back to the 18th is because of March Break," he explained. "We wanted to stay away from March Break because, in the past, a few people complained because they weren't back from their holidays and couldn't make it."
For more on the Miramichi March 5K, visit
here
.
Pellerin and Jean-Marc Doiron were the first to break the 16-minute mark in 2017 at last year's March 5K, and many are interested to see how times will be affected this year by a change in the course that avoids the busy King George Highway. Organizers believe the course will be even faster now.
"I hope when they try it out, the conditions are good," said Richard, as a snowfall hit Miramichi today. "I'm glad we're not having it this weekend."