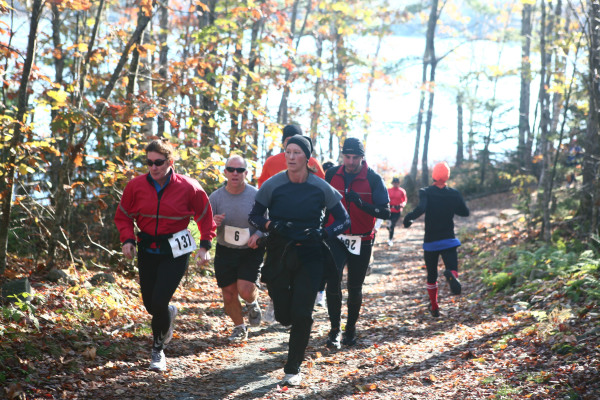 MEC series to wrap at

Shubie Park this Sunday

More of the same for 2018, packages already available

By Andrew Wagstaff

Maritime Runner
Oct. 26, 2017
DARTMOUTH, N.S. – The MEC Halifax trail race series will wrap up this weekend with its run at Shubie Park on Sunday, Oct. 29, and race director Kristian Rafuse is already planning for next year.
The 2018 series will look a lot like the successful 2017 one, according to Rafuse, who credited much of that success to is predecessor, Christine Krochak.
"A lot of it comes down to the real hard work Christine has done over the years," he said. "I've inherited a pretty well-oiled machine, and I just have to do what Christine did, with maybe a few tweaks. I just have to pay attention."

The MEC Halifax trail race series for 2017 will wrap up on Sunday, Oct. 29, at Shubie Park in Dartmouth, N.S. Shown here are participants during last year's run.

Photo courtesy of Kristian Rafuse

Shubie Park is a beautiful location open to the public, therefore might have a bit more human traffic on Sunday, and has a route that is more complex in comparison to the simple out-and-back for the previous Musquodoboit race, he explained.
The 5K route will go through one of the more popular areas of the park skirting Lake Micmac, while the 10K will be two loops of that route. The half marathon route will follow Lake Charles.
Rafuse is expecting participants of all ages and abilities.
"For the majority of our races we really try to get the full, broad spectrum of runners," he said. "There will be people pushing strollers along the 5K, and for some folks this will probably be their first race. And then we might have people who run the half marathon in 1:30 or something like that… it's a broad spectrum from casual runners to performance athletes."
For more on the MEC Shubie Park race, visit
here
.
Back next year will be the runs at Point Pleasant Park, Citadel Hill, the Salt Marsh Trail, the Musquodoboit trail way, and Shubie Park, and the non-series night run in Waverley is also likely to return. All will be scheduled for the same weekends they were held this year, according to Krochak, who said the series packages are available now.
The previous four races in the series have received impressive turnouts this year, and whether or not Sunday's Shubie Park will follow suit depends largely on the weather, according to Rafuse. Offered will be 5K, 10K and 21.5K distances.
"It's one of those runs where folks tend to decide closer to the date, because not everyone wants to run a half marathon on a cold or rainy day in October," he said. "But it's been a beautiful fall, and supposed to be about 15 degrees… probably a bit chilly in the morning but should be a beautiful run."