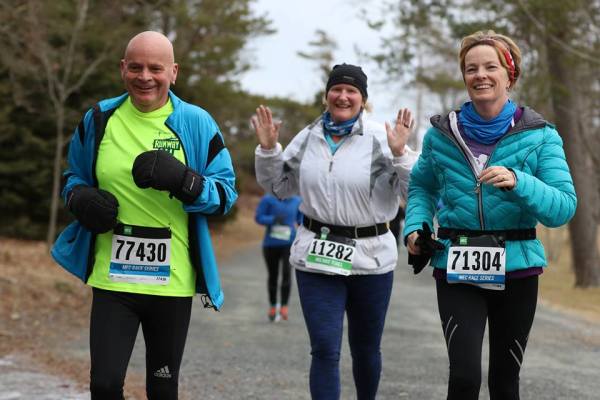 MEC to launch 2018 series

at Point Pleasant Park Jan. 7

Storm date of Jan. 28 set in the event of a cancelation

By Andrew Wagstaff

Maritime Runner
Jan. 4, 2018
HALIFAX – Sunday, Jan. 7 looks like a beautiful day for a run at Point Pleasant Park. What happens between now and then could be a different story.
Mountain Equipment Cooperative (MEC) Halifax will launch its 208 race series at the popular park on Sunday, although race director Kristian Rafuse was waiting to see how cooperative Mother Nature will be, as the region braced for its first big winter storm.

MEC Halifax will launch its 2018 race series at Point Pleasant Park in Halifax on Sunday, Jan. 7. Shown here are participants during last year's event.

Tim Chesnutt photo

"It's a matter of what's going to happen between Thursday and Friday that will really determine how the event will unfold," said Rafuse. "The city does clear the trails, but I'm not entirely sure whether they will clear them on the weekend. If they can get to it on Friday, they'll do it, but I don't think they'll send a crew in on Saturday."
Snowfall is not likely to be the issue in Halifax, however, which was expecting more in the way of heavy rainfall and high winds from this weather event.
"My main concern is if we have significant accumulation that turns to slush, and then sub-zero temperatures by Friday, it will be terrible," he said.
A rain/snow date of Sunday, Jan. 28 has already been set, in the event that the run has to be canceled.

That is the same scenario that unfolded last year, when the Point Pleasant Park race was postponed due to a snowstorm. It did not affect the turnout however, as close to 500 runners showed up for the 5K and 10K runs, making it the largest MEC Halifax run yet.

Registrations are not as high yet this year, according to Rafuse, who said the recent deep freeze in temperatures may have affected he enthusiasm of some runners. But the popularity of the Point Pleasant Park run is undeniable.
"It's one of those kind of events where you can put yourself against Mother Nature in the comfort of the city," he said. "You can dress yourself against the elements for a 5K or 10K run, and people love the park. It does tend to be very popular."

For more on the MEC Point Pleasant Park run, visit
here
.