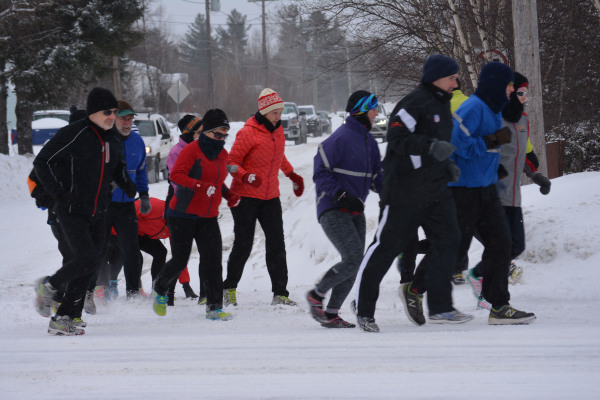 Miramichi to launch 2018

race series on Sunday

Brian Richard 5K to be held rain, snow or shine

By Andrew Wagstaff

MIRAMICHI, N.B. – The 2018 race series in Miramichi looks much like it did in previous years – 16 races at a variety of distances, spaced out throughout the calendar year. But the schedule has been tweaked slightly.
Mainly, dates of many of the races have been moved so as not to conflict with the monthly Demi-marathon de l'Acadie, held on the first Sunday of every month one hour away in Tracadie-Sheila.
As fate would have it, however, last weekend's Tracadie was postponed due to weather conditions, and was rescheduled for this coming Sunday. That day happens to be the date of the Brian Richard 5K, the first race of the points series in Miramichi (the Rocky Blackmore 5K on Jan. 1 was a fun run not included in the points series).

The Miramichi River Runners will launch their 2018 race series on Sunday, Jan. 14 with the annual Brian Richard 5K. Shown here are participants during last year's race.

Photo courtesy of Brian Richard

"Weather is the key," said Brian Richard, past president of the Miramichi River Runners. "I hope we get at least what we had last year, but with Tracadie moving their half to the same date as us, we might lose some runners that we normally get."
Last year's Brian Richard 5K, named after Richard when he stepped down after 30 years of president of the club in 2013, drew 29 runners.
It will kick off a busy schedule of running for this year's series, which will include eight 5K road races, two 5-milers, two 10K races, two one-mile races, and two cross-country 5K races.
Runners must take part in at least half of the races to qualify for the series, according to Richard.
"Our point system is attractive to some runners to make it their goal, because you only have to run eight out of 16 to qualify," he said. "There's definitely a variety. We have everything you would want except a half marathon."

Five of last year's races were scheduled on the same day as the Tracadie events, and none are this year.
Other slight changes have included adjustments to the 5K route to avoid a heavy traffic area, moving the start time of the races from 10 a.m. back to 9 a.m., and bumping the registration fee from $5 up to $7.
Although the weather forecast is showing a possible snowstorm for Saturday into Sunday, Richard said the race would be on. He gave the city credit for its snow removal efforts.

"We're not canceling," he said. "They do a good job clearing the roads. They're out all the time, and our biggest concern is safety."
For more on the Brian Richard 5K, visit
here
.