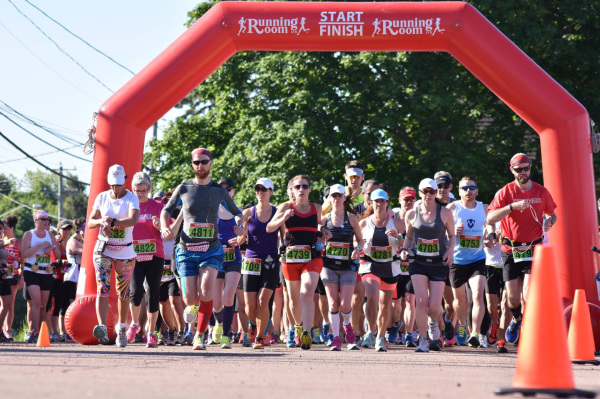 Moncton Canada Day run sold out

Annual event raising funds for Dieppe Youth House

By Andrew Wagstaff

Maritime Runner
June 28, 2017
MONCTON, N.B. – A capacity crowd of runners and walkers will celebrate Canada Day here, with the annual run on Saturday, July 1.
Capped at 350 participants, the event has been sold out for this year.

"It's a great way to start off the day's festivities with all the family, get out, have some fun and exercise," said Emma Belcher of The Running Room, which puts on the annual event. "There are a lot of great prizes that go along with this event, which draw people in as well."

The annual Canada Day run will take place in Moncton, N.B. on Saturday, July 1. Shown here is the start of the 15K race from last year.

Photo courtesy of Atlantic Running Room events on Facebook

"This was a run started approximately 12 years ago as a benefit for the 'Conseil des personnes Handicapees de Dieppe' and has grown every year since," said Belcher. "The goal this year is to promote health and wellness and raise funds for Dieppe Youth House (Maison de Jeunes Dieppe)."
For more on the Canada Day 2017 event, visit
here
.
This year's event will feature a 15K walk/run, a 5K walk/run, and a 1K kids' run. The course is a flat and fast out-and-back on the trail, with one small hill on the 15K route, starting at the parking lot opposite the Melanson/Amirault church.