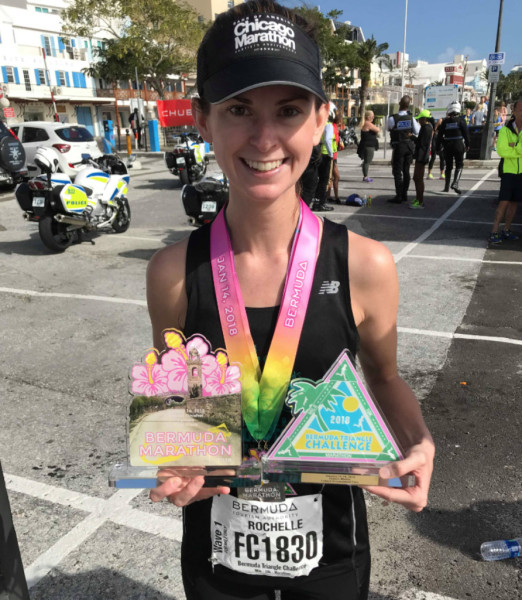 Moncton woman wins

Bermuda Marathon

Johnston competes in one-mile, 10K, full marathon events

By Andrew Wagstaff

Maritime Runner
Jan. 16, 2018
HAMILTON, BERMUDA – It was around mile 14 on the Bermuda Marathon on Sunday when Rochelle Johnston passed another runner near the top of a hill, and noticed a moving police motorcycle just ahead.
When it didn't move with the rest of traffic, she realized it was the lead vehicle for the first female in the race.
"Then I realize it was ME who was the first female," said the Moncton, N.B. runner. "The amount of excitement I felt at that moment was equal to a kid on Christmas – it was surreal. I quickly modified my plan for the second half, switched my watch so I couldn't see my pace anymore, and made a new goal of keeping the lead, of actually trying to compete."
Compete she did, finishing as the first female in not only the marathon, but the Bermuda Triangle Challenge, which also included a one-mile race on Friday evening and a 10K on Saturday.

Rochelle Johnston of Moncton, N.B. finished as the top female in the Bermuda Marathon on Sunday, Jan. 14, with a time of 3:17:35. She also won the Bermuda Triangle Challenge, an accumulated result that also included a one-mile race on Friday and 10K on Saturday.

Photo courtesy of Rochelle Johnston

Training for the event was not easy. She became sick four times in two months, including one illness that caused a painful rib injury, and found the winter weather brutal for training runs.
Because of these setbacks, she had scrapped her time goals, and went into the event with the intention of just soaking up the experience.
"My biggest goal was to just do the best I could on the day of the event, and to be happy with whatever that turned out to be," said Johnston.
She ran a 6:03 in the Front Street Mile on Friday, good for first among female challenge participants, and then took a conservative approach to the hilly 10K race on Saturday, following her 49:11 run with a dip in the cold beach water to help with leg recovery.
Marathon Sunday was the hottest day of their trip up to that point, with the temperature reaching 22 degrees (feels like 29).
"It was very hot from the very beginning, but that only highlighted the beautiful course," said Johnston. "So many incredible ocean views."
She aimed for a 4:40 pace for the first half, and took time to make goofy poses for photographers, and even danced a little for the spectators, and reached the halfway mark at 1:38:00.

Seeing her husband gave her a burst of energy, and she thought of her friends, family, running buddies and 17-month-old son to help motivate her in the tough final five miles.

She sprinted the final 300 metres to break the tape at the finish line.

"I had the biggest smile on my face – it was truly a priceless moment that I will never forget," said Johnston. "My husband was there, and he came and hugged me. We both just laughed and cried and hugged. It felt like a dream come true!"
She finished with a time of 3:17:35, her second fastest marathon after achieving her 3:07 PB in Chicago in October.

She was thrilled with her result in Bermuda, especially considering the heat and the hilly course.
"The struggles I faced in training also made this so meaningful," said Johnston. "I've never won a race before – I've come second, third, and fourth many times, but I have never finished first. To have my first win be a marathon is something I never dreamed of. I am still in shock!"