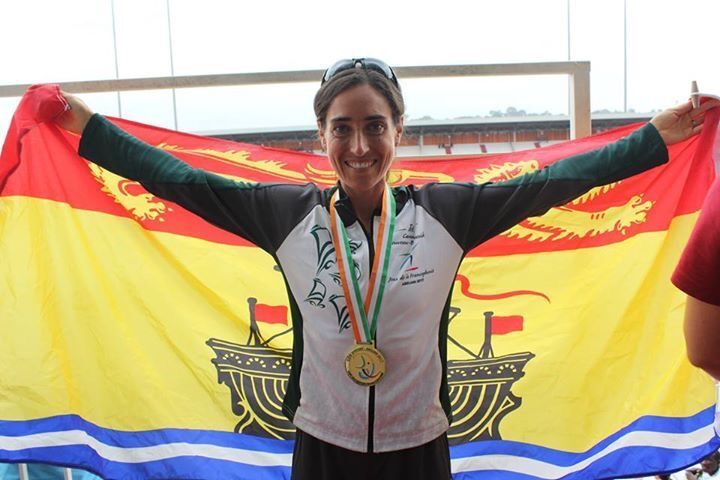 Mountains, memories and lessons learned

Doucet looks back at incredible year



By Andrew Wagstaff

Maritime Runner

Dec. 29, 2017

QUISPAMSIS, N.B. – On Jan. 14, 2018, Shelley Doucet will be in Texas, facing down her latest running challenge – the half at the Houston Marathon.
   It is sure to be a memorable start to her year, but after her 2017, it will have a lot to live up to.

   The Quispamsis runner had a year full of memorable running achievements on the trail, road, and even in the mountains, picking up valuable lessons from all of them.

   January saw her visit Arizona for two weeks, a trip with the dual purpose of getting some rest and recovery after a busy 2016, and to experience some training at altitude to see how her body would respond.

   During this time she was able to meet and run with some of the world's best, including elite ultra trail mountain runner Jim Walmsley, but most of her training was with Quebec's Melanie Myrand.

   "The workouts were really hard because it was more difficult to breathe, but I think having Melanie to train with helped because she is faster than me," said Doucet. "Just having somebody like her to chase after, and pushing you in your workouts, it inspires you and fuels you in a certain way you can't get on your own."

   Being able to run in places like the Grand Canyon, Sedona, and Flagstaff meant Doucet probably did more training than she did relaxing on the trip, but she looked back at it as a worthwhile experience.

   Working out with Myrand and the others lit a fire under her.

   "Just to see other runners with a similar background and age to me, who have been able to reach this level… it was pretty inspiring for me to be surrounded by that," she said. "Experiences like that rejuvenate you in training, and get your year off to a good start."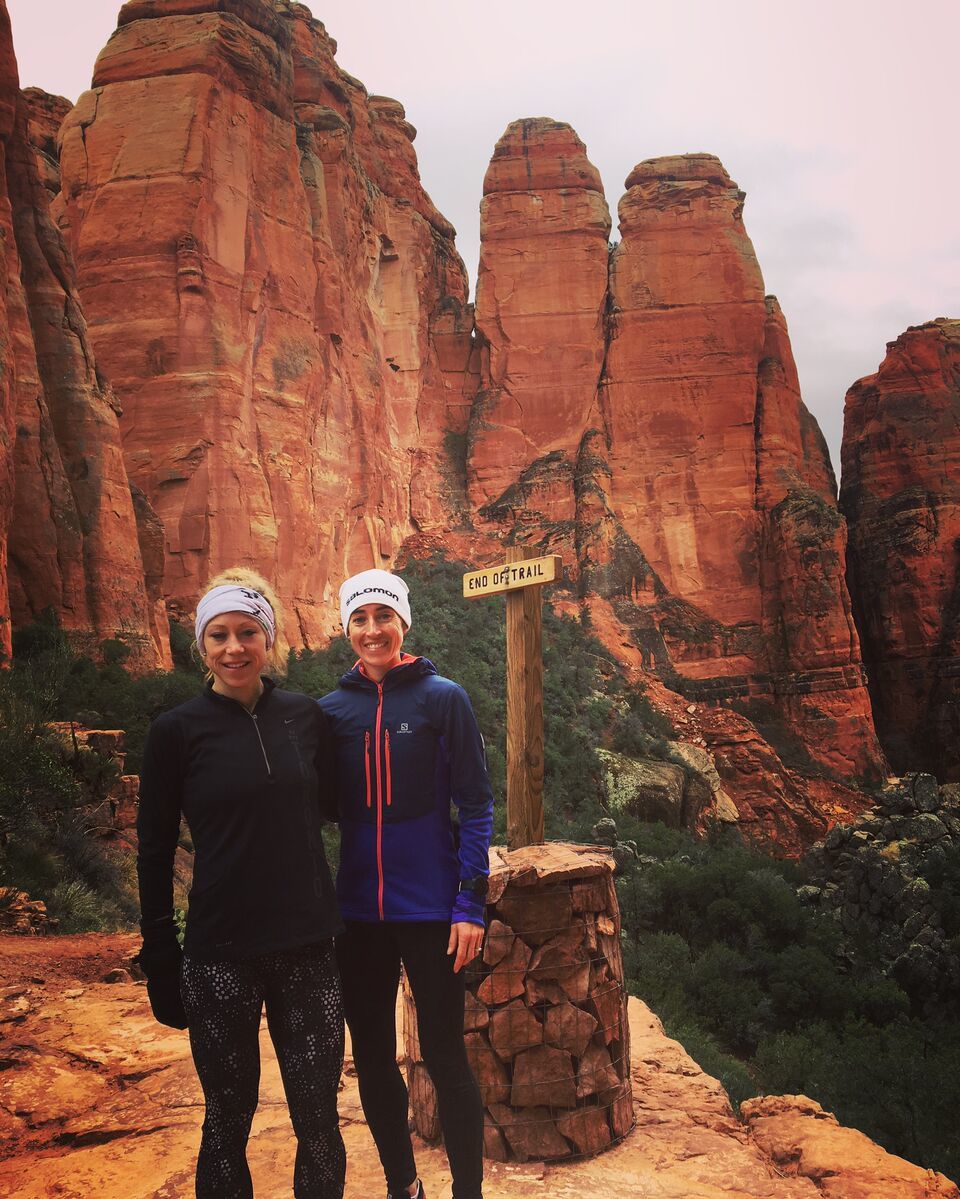 Shelley Doucet (right) and Melanie Myrand at Sedona, Arizona.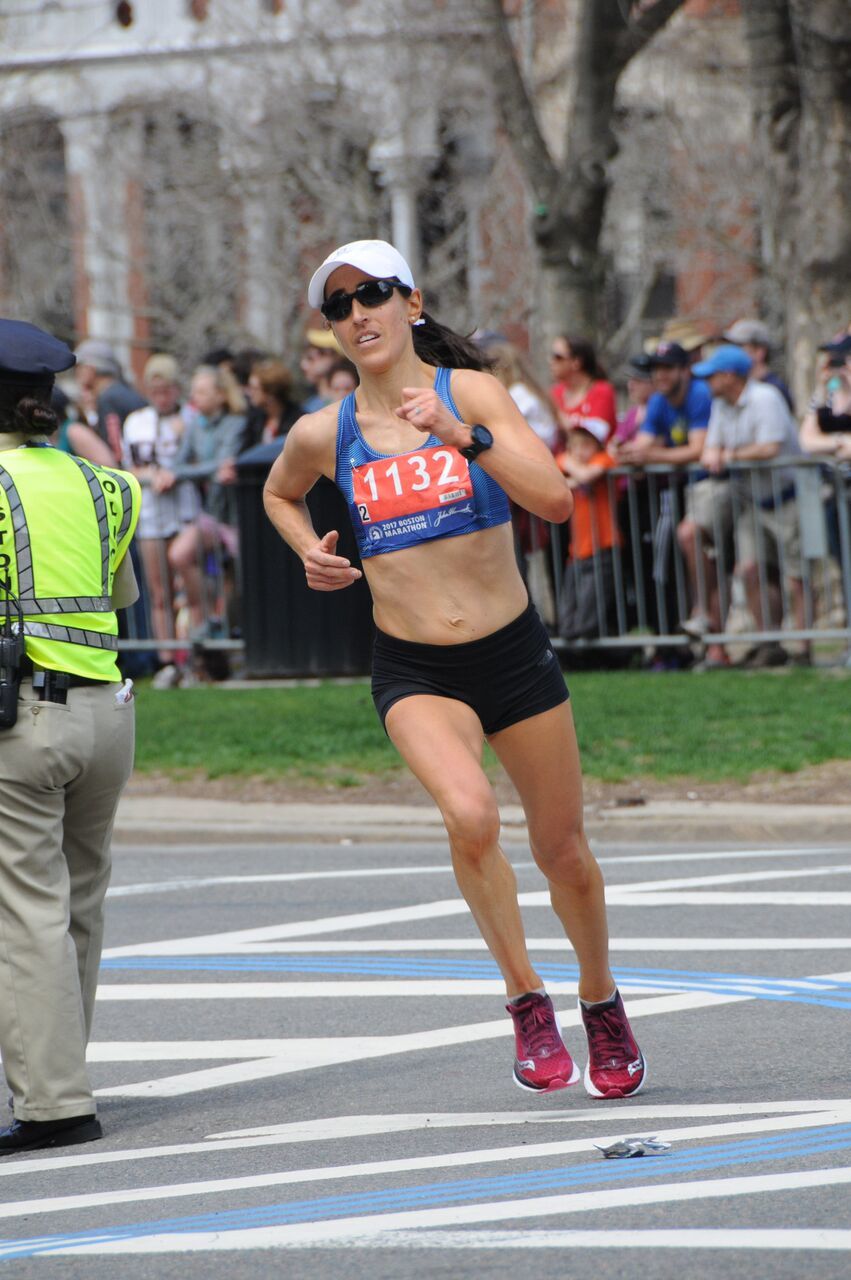 The timing for that rejuvenation was perfect, as Doucet was beginning her training for the 2017 Boston Marathon. It would be her second straight appearance at the historic race, but the first with injury-free training.

   Not only did her training go well, but she was also able to share her Boston experience this year with many close to her. Her husband Evan and sister Marcie Holland were also in this year's race, and on the bus in they met up with fellow New Brunswickers Nat Couture, Daniel LeBlanc and Colin McQuade.

   "Having that opportunity to be surrounded by so many people I was so close with, at a race with almost 30,000 people there, was amazing," she recalled.

   Doucet ran a personal best 2:45:46 in Boston, finishing second among Canadian females, and setting a new provincial record for New Brunswick. As she ran down Boylston Street for the final stretch, she allowed herself to take in the electric atmosphere, and celebrated with her friends at the finish line. Couture and McQuade had finished within minutes of her.

   "They had just accomplished quite a bit themselves, but they seemed to be more excited about my race," she said. "It was pretty special to share this experience with good friends, despite being amongst thousands of runners!"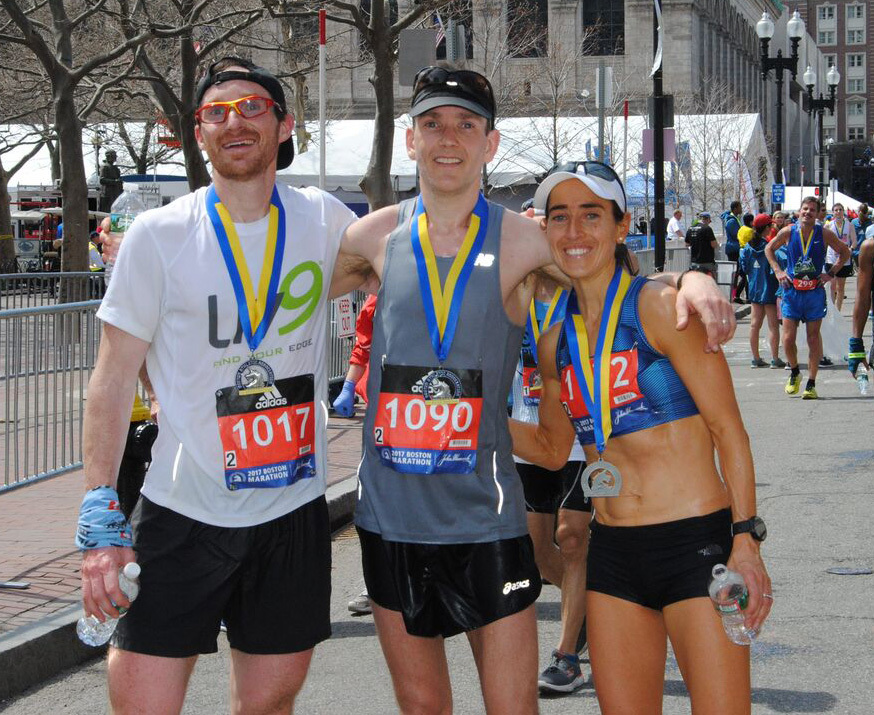 Doucet rounding a turn at the Boston Marathon, and with fellow New Brunswick athletes and friends Nat Couture (left) and Colin McQuade at the finish line..

  It was barely one month later that she was participating in her next goal race, the Ottawa 10K national championship on May 27.
   An early riser, Doucet said her body clock was not prepared for an evening race.

   "I was up at 3:30 a.m., waiting in my hotel room pretty much all day for this race," she said. "By the time the race came, I was depleted before I started. With the heat and everything, it was my only race this year that wasn't a great racing experience."

   Looking back, she believes it was a little soon after Boston to tackle Ottawa, which saw her start strong but fade in the final mile for a 37:30 finish.

   Although she described it as her "worst performance of the year," she also has positive memories from the race, including the crowd and the beautiful course, and having her coach John Lofranco with her at the finish line.

   "I don't like to forget any race because I think you can learn something in any race that you do," said Doucet. "It's a confidence booster to know I can still push myself to get to the finish, even when I feel as though I have nothing left."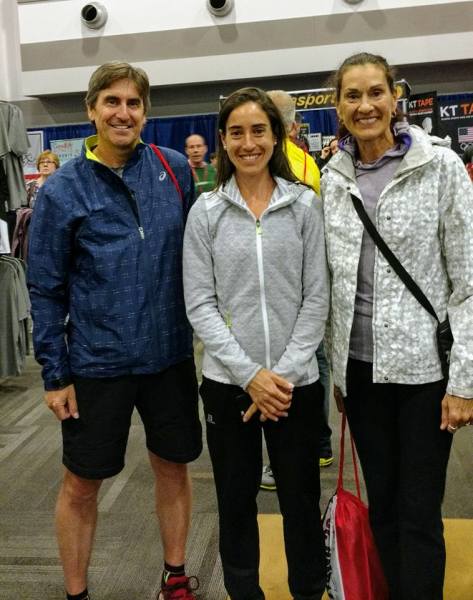 Doucet (centre) with New Brunswick running legends Marc Beaudoin and Patty Blanchard at the Ottawa 10K in May.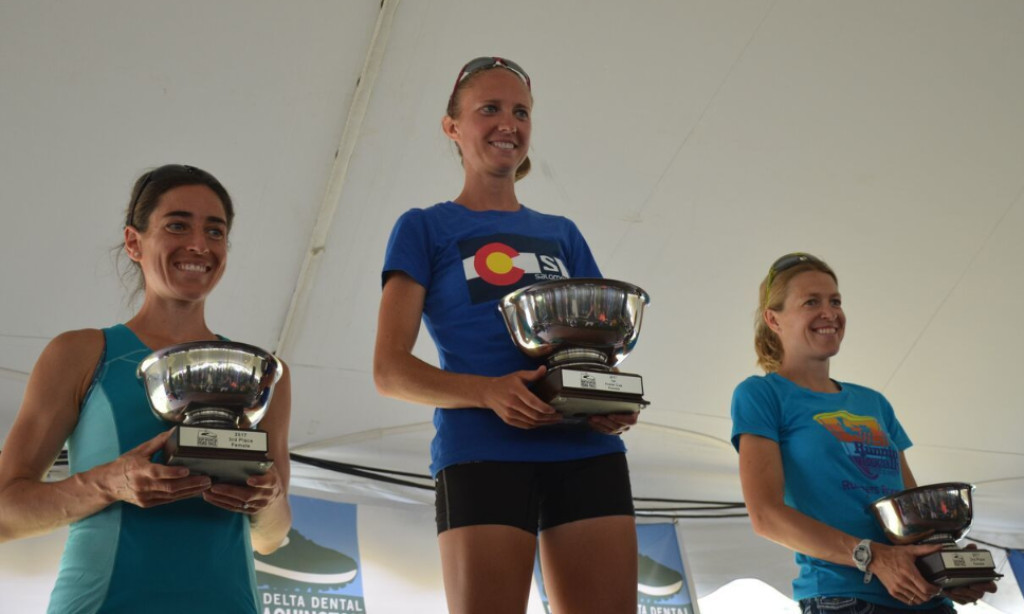 She had a more satisfying result when she returned to Ottawa in July for the Canada Day 10K, running a personal best 36:23.

   Before that, however, she found herself on a mountain in New Hampshire in June, running what she described as the hardest race she had ever done.

   She had heard about and registered for the Mount Washington Road Race during the winter, but as the time drew near, she thought a passport issue would prevent her from taking part. It was only two days before race day that she decided to participate, having done no planning or training specific for the race, a 7.6-mile climb up almost 5,000 feet of elevation.

   "About 90 seconds in, I was breathing so hard that it was impossible to talk," said Doucet. "I kept thinking to myself that it was going to level out and I would get a break, but not once in the race was there a break. It never went down, and only in a couple places did it flatten a bit for a few metres."

   Despite the challenge, she finished third among females with a time of 1:16.

   Thinking she was going into the race with no expectations, Doucet read a news article the day before the race predicting she would finish third. Despite the toll it took on her legs and her lungs, she felt compelled to not disappoint.

   "I think that's why I ran so well, because I did feel that pressure and felt I had to come in third," she said. "So I was really pushing it to stay in that third position. I'm afraid what would have happened if they would have said I should come second, because I probably would have pushed myself too hard."

(Above) Doucet (left) on the podium with Shannon Paine (centre) and Brandy Erholtz after finishing third at the Mount Washington Road Race in Gorham, N.H. in June; (below) Redemption in Ottawa at the Canada Day 10K.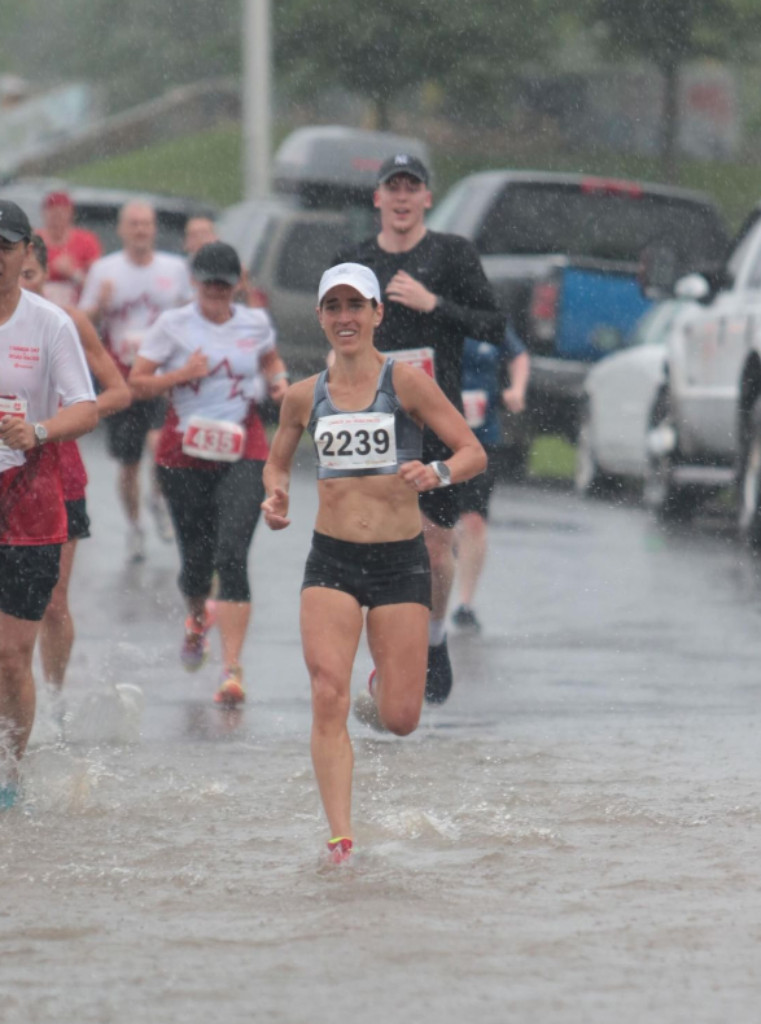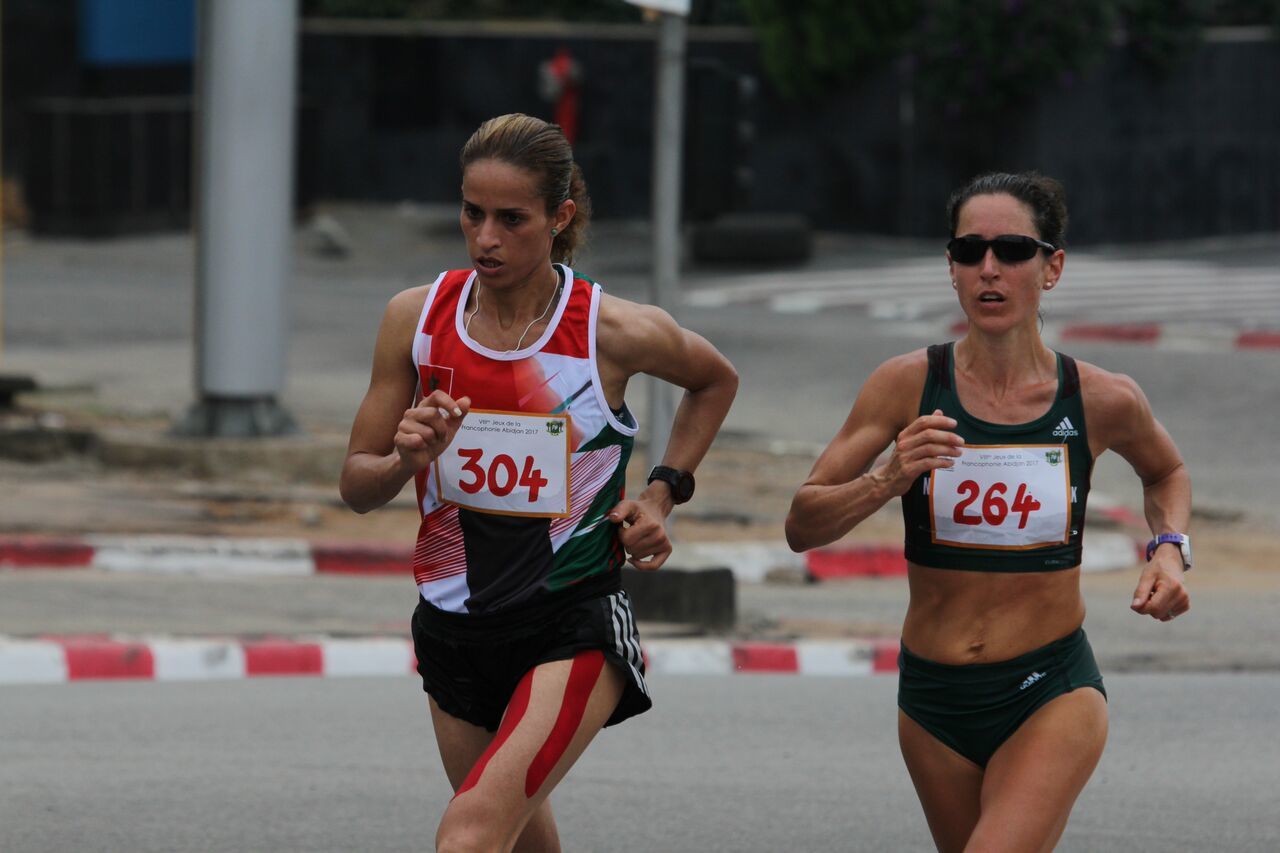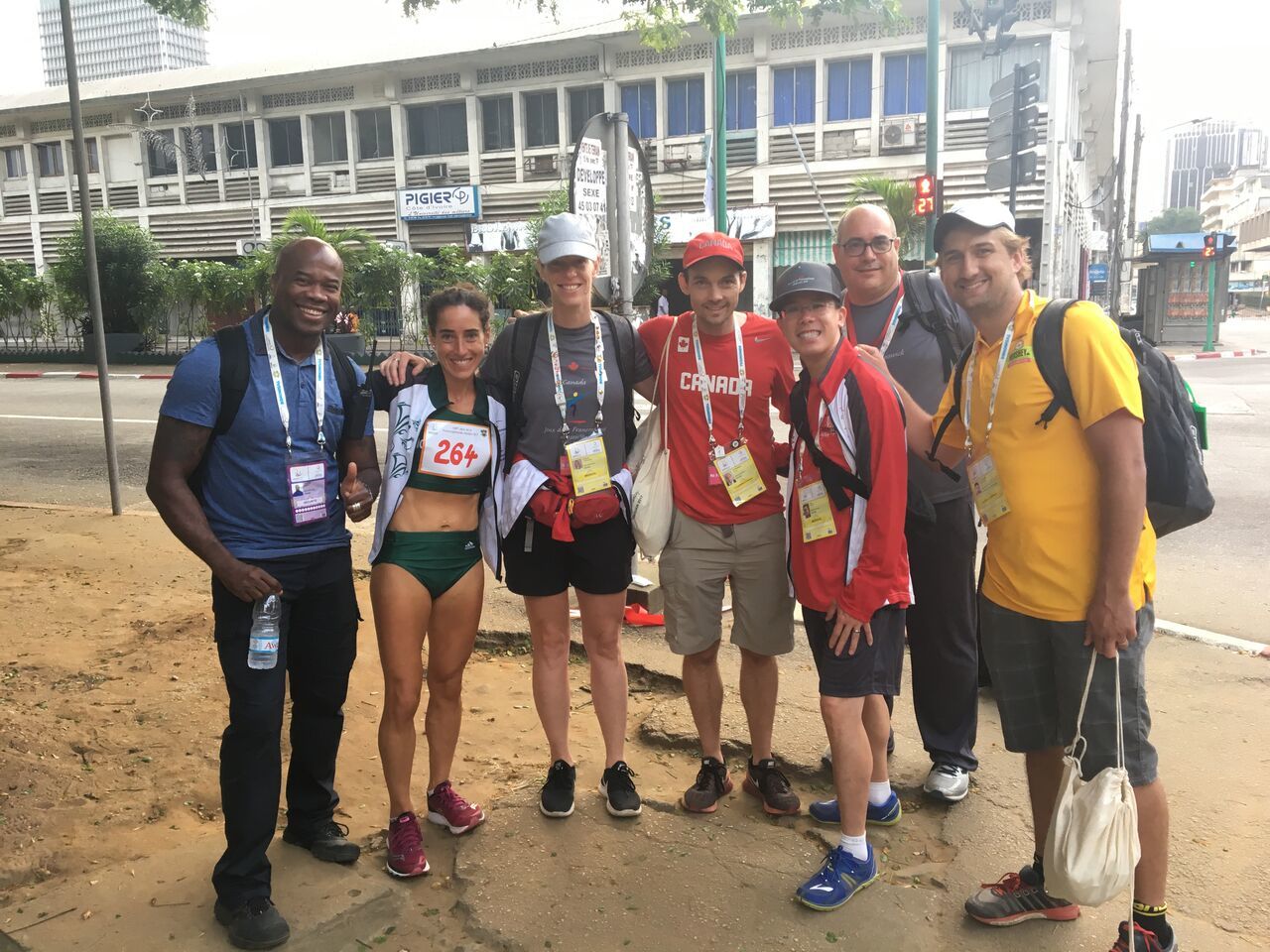 (Above) Doucet, on her way to winning the gold medal in the marathon at the 2017 Jeux de la Francophonie in Ivory Coast on July 23; (left) with her support team from Team New Brunswick.

   Next up would be her first international competition, representing New Brunswick in the marathon at the Jeux de la Francophonie in Ivory Coast, Africa on July 23.

   The experience was an eye-opening one for Doucet, who was one of eight athletes on the team, facing challenges such as travel logistics, time differences, lack of sleep, illness and climate change.

   But she was most impressed with the support system in place, as the team had everyday access to physiotherapy, massage, chiropractors and anything else they needed.

   "It's incredible to see how everyone was there to support you, when you always envision it more as an individual sport over the years," she said. "Certainly this reinforced for me that it really is a team sport, especially when you're competing at this level."

   Thinking about all of these people, and the fact that she was representing her province and her team, really pushed her along in the race.

   The course was a 5K back-and-forth, before a final stretch to the stadium and onto the track for the finish line. At one end of the 5K she would see her team doctor and receive advice from coach John Lofranco, while at the other end she would get wild cheering support from her chiropractor and team coach Gabriel LeBlanc, giving her something different to look forward to at each section.

   "The final stretch was lined with all kinds of people, children cheering so loudly as I ran through," she recalled. "Out of nowhere, a cab drove by and there's Gabe , hanging out of the cab, screaming and cheering me on. It was just the most surreal experience.

   "I knew at this point I had probably won the race, so I really let up for that last stretch to take it all in, acknowledging the kids that were around," she continued. "I took in the experience because I knew I may never have another experience like it."

   She was home long enough to spend a little time with her family, and take part in the Rothesay Trail Fest, before she was back on an airplane for yet another international competition. This time she would be representing Canada in the World Long Distance Mountain Running Championship in Premana, Italy on Aug. 6.

   Not normally fond of back-to-back races, Doucet and her coach decided this was a special opportunity.

   Like with Mount Washington, however, she had not done any specific hill training, and admits she was a little worried. Seeing how fit and experienced the other athletes were did not make her feel any better.

   "That morning there was thunder and lightning and pouring rain," said Doucet. "When that storm came on I thought the race might be canceled, and I wouldn't have been overly disappointed because I was pretty psyched out about that race. I was just feeling I was not ready to participate."

   The 32K race was a challenge, to say the least, with dizzying altitudes and more than four hours of running in slippery, wet conditions. She was working so hard, she almost became delirious at moments. At one point late in the race, she tried to get a cup of water and found herself getting woozy. As medical workers headed in her direction, she continued on, determined to finish.

   And finish she did, in 4:11:10, ninth place among females. With little mountain running experience, Doucet knew there were likely some who questioned whether she deserved to be on the team. She ended up being the only Canadian to crack the top 10.

The experience taught her a lesson.
   "Don't count yourself out, just based on how other people look or what they tell you they're doing for training," she said. "There's the mental side as well, which I think helped me a lot in that race… the only reason I came in ninth place is because mentally I really wanted it quite badly."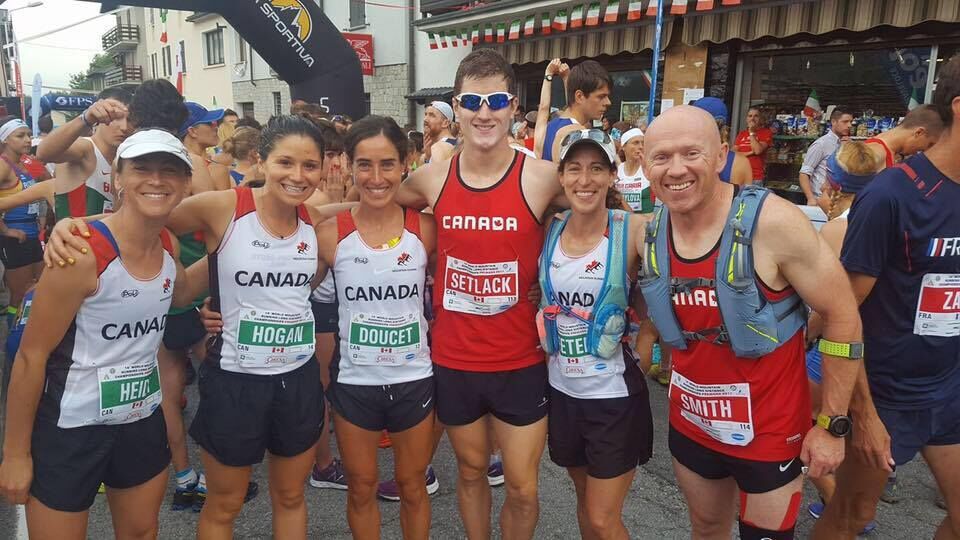 (Above) Team Canada on race day at the World Long Distance Mountain Running Championships in Premana, Italy; (below) heading out with the starting group, including teammate Marianne Hogan on the right.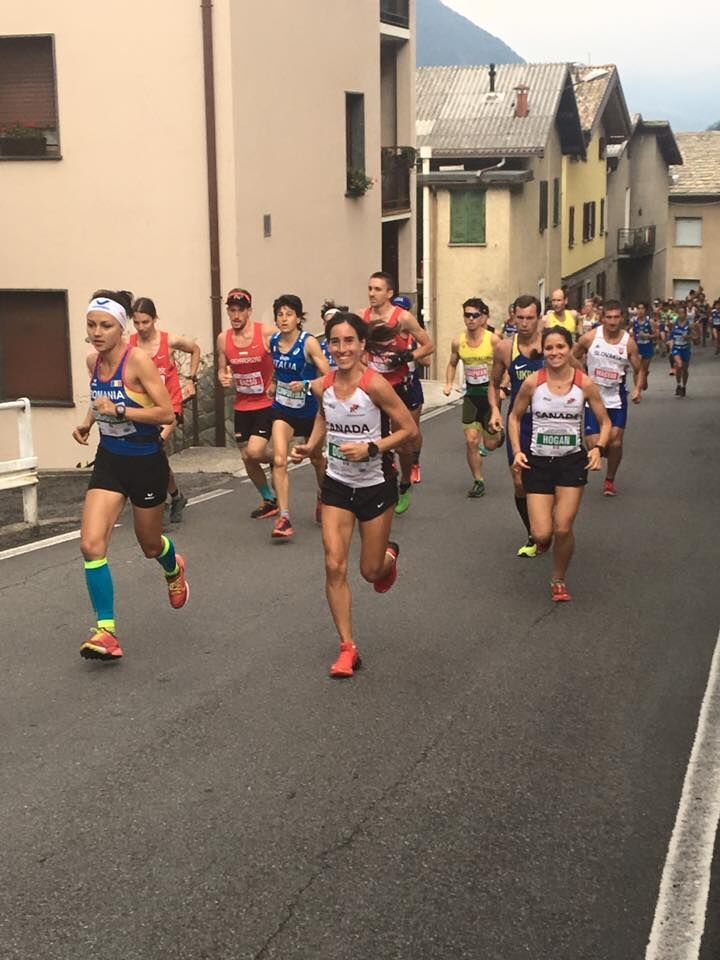 She could barely walk for two days after the race in Italy, and it was at least a week before she could even think about running again. She needed a break. Although she took part in the Herring Run on Aug. 13, it was painful and she took it easy. She also ran in other trail races in September and October, such as the Fundy Circuit Ultra, but was mainly focused on getting back to training.

   She had one more road race in her sights before the end of 2017, however. The provincial championship half marathon was to be decided at Legs for Literacy in Moncton, N.B. on Oct. 22. Having already decided on Houston as a goal race in January, she thought Legs would be a good way to measure her baseline fitness, without any specific half marathon training.

   "It's always good to do races in your home province and participate as much as possible, just to stay connected with the community," said Doucet. "I felt I had done quite a few races on the trail scene but less so in the road circuit, so this would be a perfect opportunity to participate, and it was close to home."

   Despite being underdressed on a chilly day, she won the race and the provincial championship with a time of 1:19:44, breaking her own course record from 2014. In fact, she would have been certain to beat her personal best of 1:19:38, had the course not been measured long by 128.6 metres that day.

   Her PB had come a year earlier at the Demi-marathon de l'Acadie in Tracadie-Sheila, N.B., a race she remembers working extremely hard in to get that result. Her Moncton effort level was considerably less.

    "I was in control the whole race, and at no point did I think I was working overly hard, nothing like the way I was working in Tracadie," she said. "It was a big confidence booster to know I could run 1:19 outside my peak training, and still not have killed myself. I know going forward I can run faster times."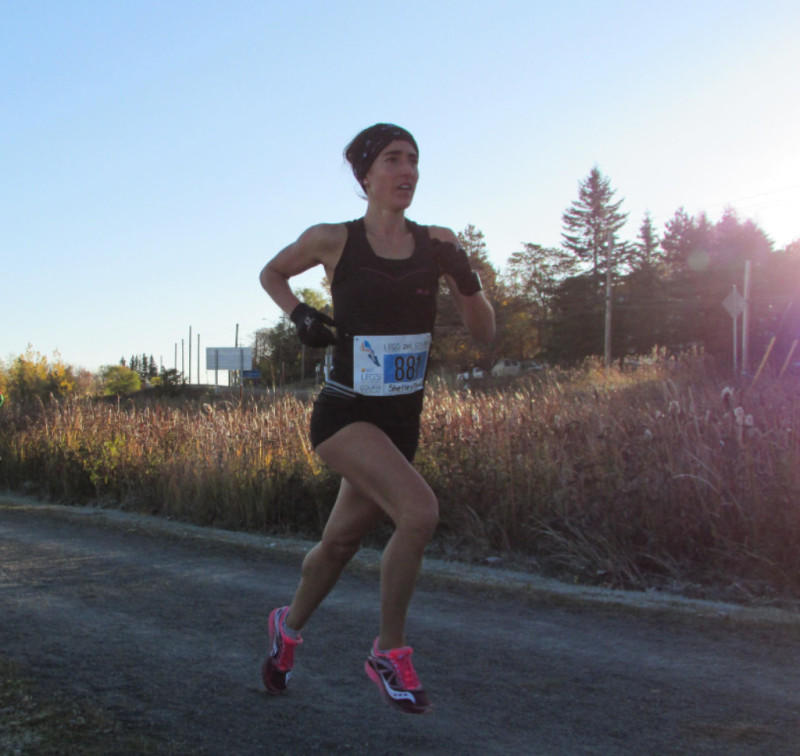 Doucet, on her way to winning the New Brunswick provincial half marathon championship at Legs for Literacy in Moncton, N.B. on Oct. 22.

   When Run New Brunswick handed out awards at its annual banquet on Nov. 18, there was no surprise when Doucet was named the female runner of the year.

   While appreciative of the honour, she was even more impressed by the company she was in, pointing to athletes like Patty Blanchard, Paula Keating, Sacha Hourihan, Genevieve Lalonde and Laura Dickinson as a few examples of the high caliber of athletes in New Brunswick today.

   "We have two national class masters athletes who have done some incredible things this year, Patty and Paula, and then there is Sacha who is consistently having great race after great race, and of course Laura and Genevieve who have so much potential," she said. "I'm happy just being included among all these people. I think we all deserve it."

   If it were up to Doucet, there would be no awards at all, just a celebration of everyone's achievements.

   "I just know it's a really exciting time for New Brunswick," she said.

For a closer look at Shelley Doucet, visit
her website
and stay tuned for her next blog following Houston.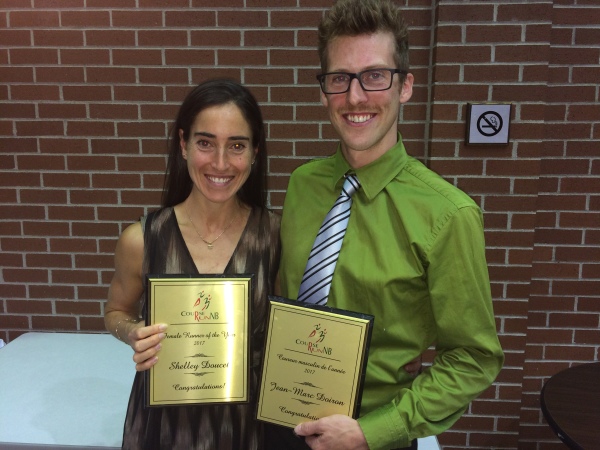 Doucet and Jean-Marc Doiron were named Runners of the Year at the annual Run New Brunswick banquet in Fredericton on Nov. 18.