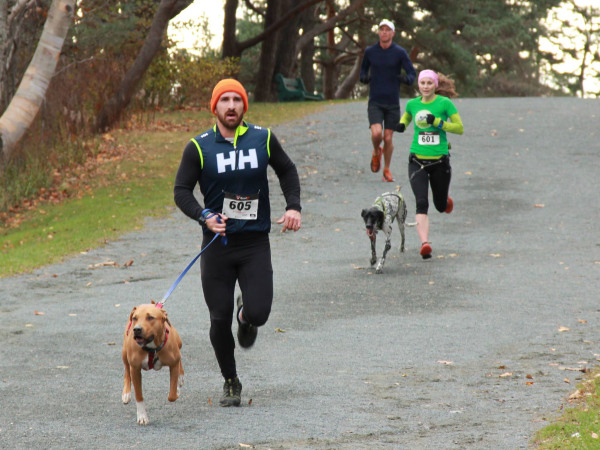 Movember brings dogs and

their people together

Halifax event helps promote growth of canicross

By Andrew Wagstaff

Maritime Runner
Nov. 20, 2017
HALIFAX – The Halifax Movember Run raised more than $3,600 for the Movember Foundation of Canada, but it did even more than that for those who like to run with their dogs.
The sixth annual run took place at Point Pleasant Park on Saturday, Nov. 18, and once again featured a separate canicross division for the 6K trail race.
"It's exciting to see how the sport has, and is, developing over a short time," said Sarah Warford, who ran with her dog Eddie. "The Movember Run has played an important role in the success. It's a special race for that reason."
The top four canicross runners finished close together, which Warford enjoyed.

Neil Lang and Finlay approach the finish line with Sarah Warford and Eddie in hot pursuit at the sixth annual Halifax Movember Run at Point Pleasant Park on Saturday, Nov. 18.

Dave Gallant photo

"It's the best way to race, challenging each other from the start to the finish," she said. "You bring the best out in each other that way, and it's way more fun."
Warford was the top female finisher, with a time of 23:51, only four seconds behind top overall finisher Neil Lang, with his dog Finlay.
While the trail is not technical, its climbs and descents are humbling, according to Warford, who said Saturday's beautiful morning meant the park was a busy spot to navigate around. She was pleased with their result, however, which was a significant PB.
"Our race wasn't perfect though," she said. "I identified a few training areas where we need to work to better our result next year. This race has become a benchmark for us, and I'm excited to take our results and put them into action to see how we can grow as a team over this next year."
It was the third year for Lang and Finlay participating, and he thought the event went really well.
"It seems like its been getting bigger each year, not only with the participants, but also with the amount of sponsors," said Lang, who crossed the finish line at 23:47. "This is a fun event for us to do and to help increase popularity of the sport of canicross."

Top finisher in the "dogless" version of the race was Jeffrey Mosher, who finished with a time of 23:09, while Marie-Claude Gregoire was the top female at 30:53.
Gregoire has participated in all six previous Halifax Movember Runs, and said she will be back for a seventh next year.
"The race directors always put on a great event for a good cause," she said. "They keep costs at a bare minimum, to raise as much money as possible. It's one of the last popsicle stick races in Nova Scotia, which makes me nostalgic."
Top costume prizes went to Randy Works and Tracey Belliveau.
Race director Ian Loughead credited the many local sponsors for helping keep expenses low for the event, and thanked the many volunteers for making the day extra successful.
"While we have sold out before, this was the first year that we actually had 100 racers show up, making for our biggest race day crowd ever," he said. "The weather was cool and the wind made it cold, but our brave souls are always up for a good challenge for a good cause."
For complete results, visit the event Facebook page
here
.