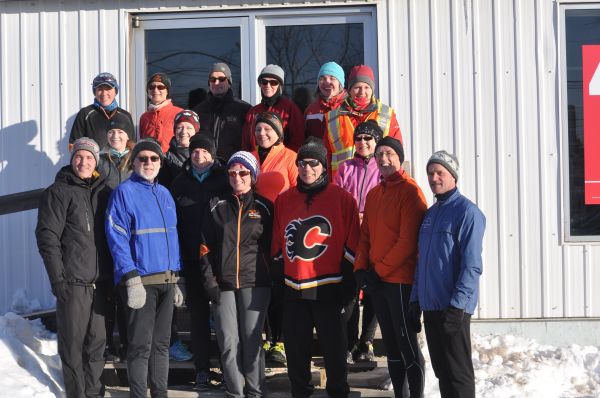 New 5K course well

received in Miramichi

Twenty-one runners turn out for Rocky Blackmore run

By Andrew Wagstaff

Maritime Runner
Jan. 1, 2018
MIRAMICHI, N.B. – The reviews are coming in, and the new 5K course for the Miramichi River Runners race series seems to be popular.
The new route is similar to the old one, which was believed by many to be the fastest 5K course in the province, but with a safer final stretch that avoids the busy King George Highway.
"I love the new course," said Tanya Wood, after this morning's annual Rocky Blackmore 5K fun run. "It's much safer. We have a legal crosswalk, which is our only crossing, and the only time we have to face traffic we can run on the sidewalk. It's perfect."

The Miramichi River Runners hosted their annual New Year's Day Rocky Blackmore 5K fun run on Monday, Jan. 1, their first race on a new 5K route for their series. Check our our Facebook page for more photos.

Andrew Wagstaff photo

Runners no longer have to contend with the heavy traffic coming in and out of the Tim Hortons restaurant, which has long been a safety concern of past president Brian Richard.
The new course also retains the features that made the old course popular, such as the long, gradual downhill section on Beaverbrook Blvd.
"We don't have to cross the road, so it's safer," said Bradley Wood, who thinks the new course will be of great benefit to the runners. "I expect we're going to see some really fast times here this season. For anybody who wants to come in from out of town, I think it's safe to say this will be one of the fastest courses in the province this year."
Wood had a pretty good race himself, this morning, completing the race in 22:30. Even more impressive is that it is the exact time he predicted he would come in, earning him the first place medal.
"Last night, my original plan was to do it in about 21:15," he explained, with a laugh. "Then, after about my third drink, it kept getting slower and slower. So I thought this morning I'd add a little extra time.
"Usually, I'm off by about four minutes," he added.

Placings at the Rocky Blackmore run are determined by who can come closest to guessing their finish times, and runners must turn in their GPS devices prior to the start. Sue Crowder came within five seconds of guessing her time, which was good for second place, while Tanya Wood came within nine seconds for third place.
Full results can be found
here
.
A total of 21 participants took part in the run, which featured a -18 degree temperature, but little wind.
"We've raced here before at -30, so this was only -18 today," said Wood. "I only had four layers on, instead of five."
Next up for the Miramichi River Runners will be the official start of their 2018 racing season, the Brian Richard 5K on Jan. 14.