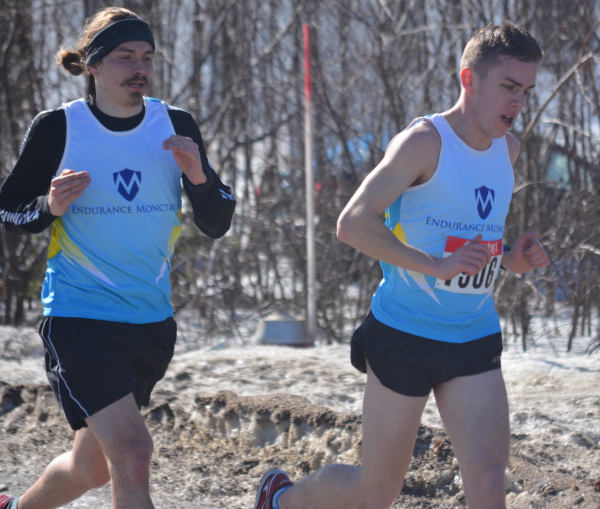 New course, new records

at Miramichi 5-miler

Annual spring race scheduled for April 8

By Andrew Wagstaff

Maritime Runner
March 30, 2018

MIRAMICHI, N.B. – As the positive reviews keep coming in for the new and improved 5K course in the Miramichi River Runners annual series, runners should know those changes will also affect the club's two annual 5 mile races.
The first Miramichi 5 Miler of the year will take place on Sunday, April 8, and the course is expected to be even faster than it was. The 5-mile course is the same as that of the 5K, but with an additional 3K section winding around the Miramichi Valley High School area.

"Everyone likes the new course because it's so easy," said member Brian Richard. "They don't have to cross the road except in one spot, so they can concentrate more on running than looking out for traffic. It will make it faster, by far."

The annual Miramichi Spring 5 Mile race will take place in Miramichi, N.B. on Sunday, April 8. Shown here are Remi Poitras (left) and Grant Handrigan during last year's race.

Brian Richard photo

The changes this year mean the previous course's 5K and 5-mile records will remain untouched. Scott Hare had set the 5K record of 15:00 in the 1980s, while the 5-mile record was broken just last year by Grant Handrigan with his time of 25:53.
The records will start fresh again on the new course at the upcoming race. The club's other races, such as the 10K, 1-miler, and cross-country 5K, will not be affected by the changes.
Last year's race drew a crowd of 32 runners, and Richard would like to see at least that much again on April 8. The club's last race, the March 5K, drew an impressive 53, despite the winter conditions still prevalent in Miramichi.
"All we do here is hope for a nice day," he said. "If we get good weather, we'll do quite well."

Five-mile races are not as common as they used to, with only a handful taking place around the region in the run of a year. The Miramichi club wanted to make sure they continued to provide it as an option on the Run New Brunswick calendar, according to Richard. The second one takes place in September.
"A lot of people like to 'run for the cycle,' and the province only had about two 5 mile races, so some of our people here were missing out," he said. "So we slapped a couple in there, just to be competitive with the rest of the province."
For more on the Miramichi Spring 5 Mile, visit
here
.